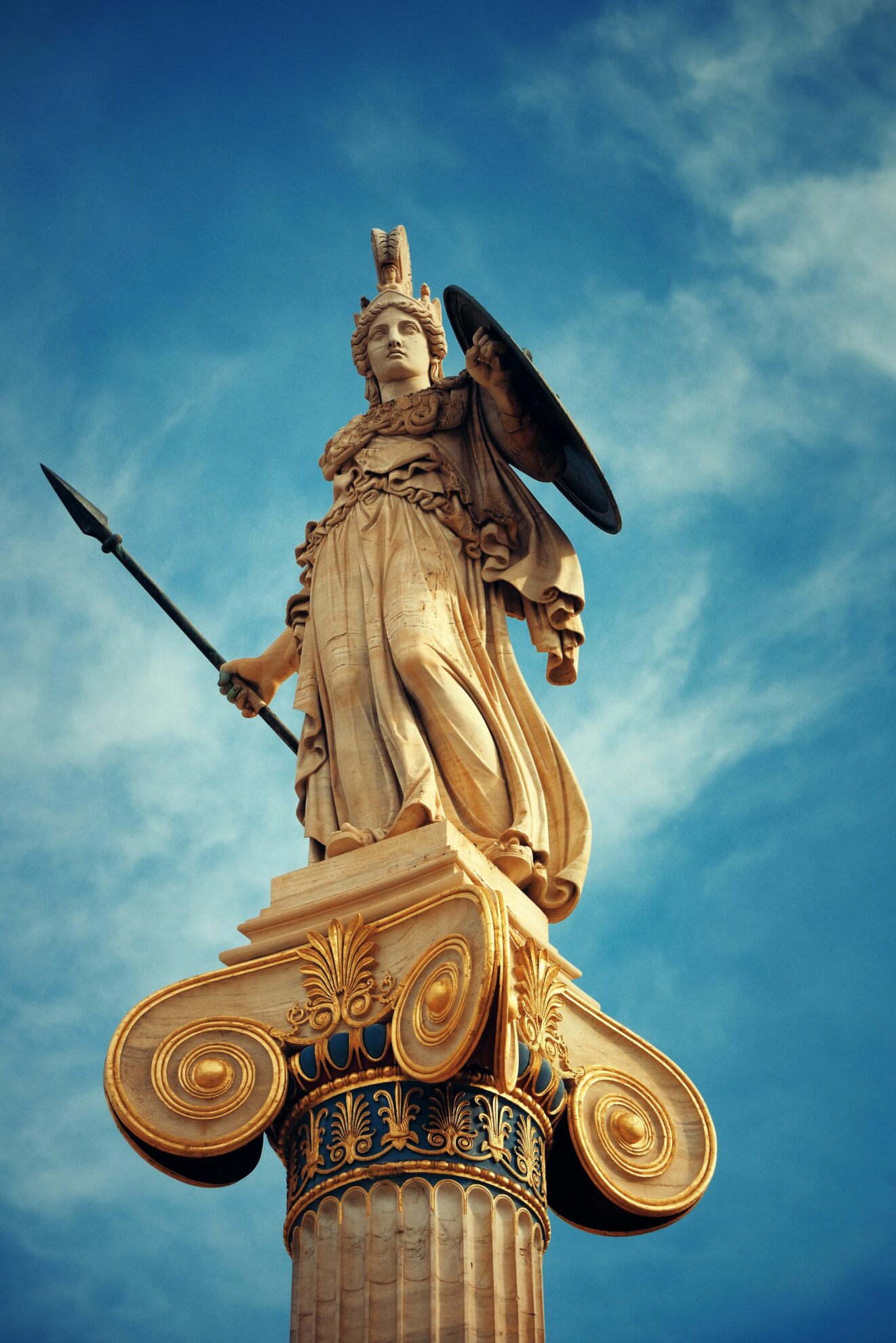 Athens to Istanbul Cruise
Aboard Ponant's Le Jacques Cartier
August 2-9, 2022
7 Nights/8 Days
from
$4,398 per person
Limited to 184 Guests
Discover the beauty and mythology of the Greek Islands and Turkey
Source invites you to step aboard your private yacht and join us for the voyage of a lifetime. Discover the beauty and mythology of the Greek Islands and Turkey on a spectacular voyage from Athens to Istanbul aboard Ponant's luxurious brand-new yacht, Le Jacques Cartier. We've customized this private LGBTQ+ charter to include the hidden harbors of Spetses, Paros and Limnos as well as the iconic islands of Mykonos and Santorini. Lose yourself in the labyrinths of Mykonos, where we'll spend the night, and enjoy the world- famous gay beaches, vibrant nightlife, and shopping.
Sailing into Santorini will take your breath away as you witness multicolored cliffs soaring above a caldera and the iconic rooftops in shades of cerulean blue. When you're ready to relax, retreat to the sanctuary of your spacious stateroom, savor inspired cuisine and pamper yourself at the spa. You'll awaken your inner explorer as you dwell, if only for a short time, in the land of the gods.
CRUISE HIGHLIGHTS & AMENITIES:
Cocktails at the Blue Eye Underwater Lounge
Experience the Mamma Mia Island of Skopelos
Customized shore excursions throughout the voyage
Jackie O's at Super Paradise Beach
Overnight in Mykonos and Santorini
Discover the ancient ruins of Akrotiri
Enjoy theme parties, afternoon t-dances and nightly entertainment
Take dips in the on-board pool and enjoy water activities from the ship's
marina
Enjoy complimentary cocktails, wine and non-alcoholic drinks throughout
the voyage
Explore Delos, birthplace of Apollo and a UNESCO World Heritage Site
Enrich yourself with yoga, fitness and spa activities at sea
Extend your stay in Istanbul & Cappadocia
Athens
Athens is the seat of democracy, site of the Acropolis, and home to world-class museums. You will be enchanted by the rocky plateau presided by its monuments listed as UNESCO World Heritage. In the city below, you can visit some of the liveliest districts in Athens: Plaka, with its maze of colorful streets, and where, in the evenings the drifting aroma of moussaka and garlic prawns will tickle your taste buds. The National Archaeological Museum and the Cycladic Art Museum are also some of the city's key attractions and allow visitors to discover Athens' cultural past.
 Departure: 7:00 pm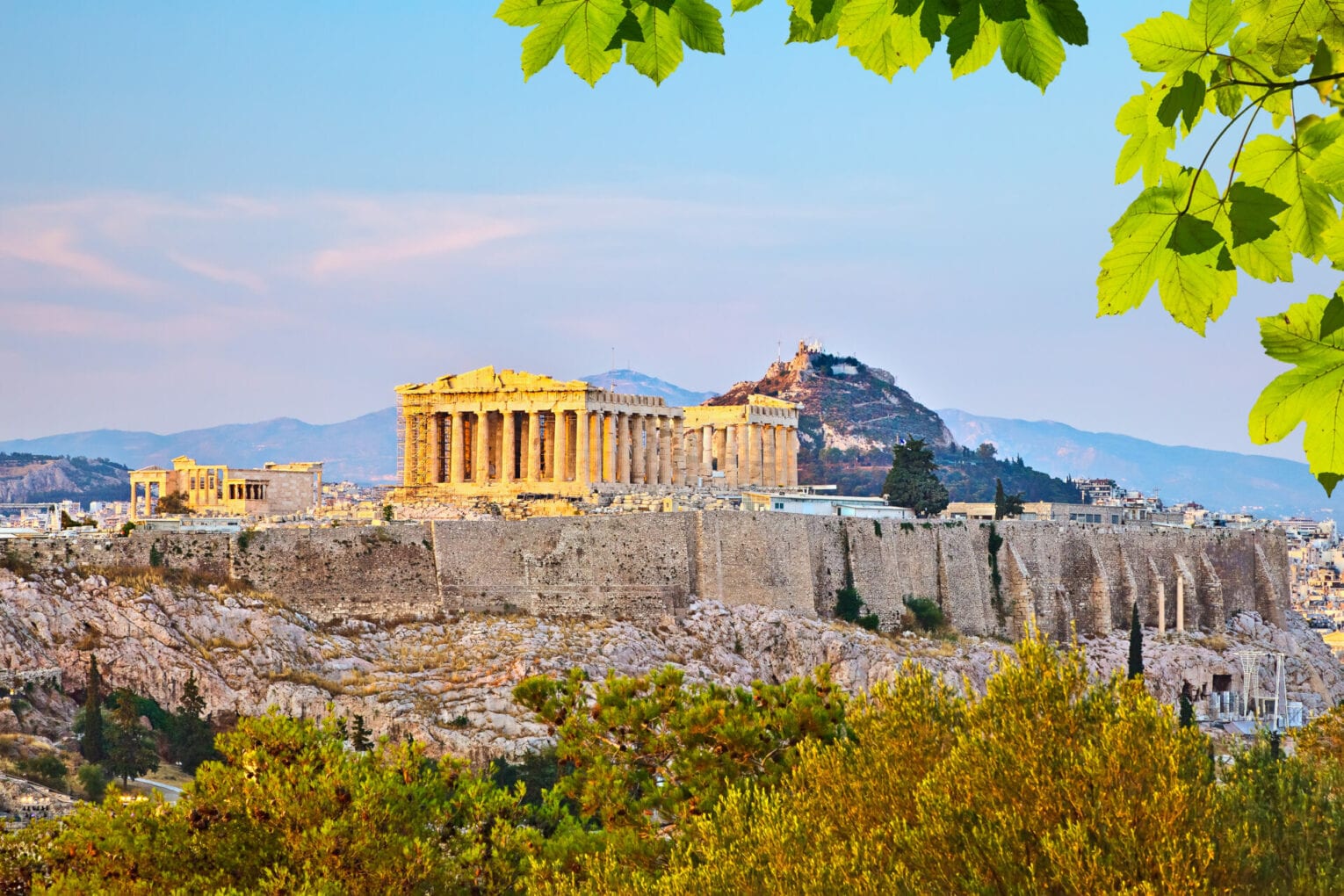 Spetses
Pearl of the Saronic Islands, chic and elegant Spetses, the "island of jasmin" is one of the popular holiday destinations for Athenian high society. The elite and lovers of sailing come together in the summer or during a long weekend to make the most of this charming and lively little port and its pristine environment.
There are no motorized vehicles on the island, one can only travel around Spetses on foot, by carriage or by bike. The lavish Poseidonion, the oldest luxury hotel in Greece, built in 1914 on the model of the Carlton or the Negresco, and the magnificent homes of the shipowners, dating from the 18th century, are testimony to the incredible destiny of this tiny island.
Arrival 2:00 am/Departure 5:00 pm
Mykonos
Enjoy a sunrise sail into white and blue Mykonos. Explore Delos, the mythical birthplace of Apollo and Artemis. An iconic gay travel mecca, Mykonos has long been a favorite for the rich and famous. This magical island has it all: beautiful people, vibrant nightlife, world-class dining, and pristine beaches. Best of all, we'll be spending the night, so you have plenty of time to enjoy everything Mykonos has to offer!
Arrival 7:00 am/Overnight/Departure: 5:00 am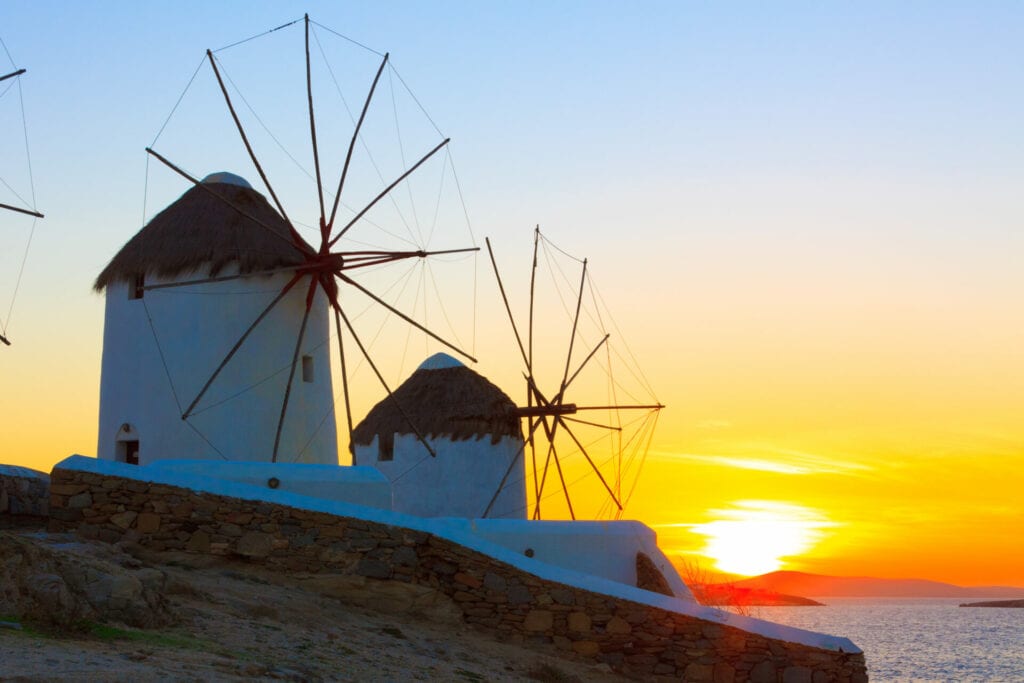 Santorini
Sailing in the waters of Santorini caldera is breathtaking. The siren call of
Santorini captivates by blue-domed churches and Minoan ruins at Akrotiri. From the volcanic beaches to the stepped streets leading up to constellation-filled skies, the island here is pure magic. The colorful whites, greys, reds of the volcanic rocks, the blue of the Aegean Sea, and the immaculate perched villages form a unique and marvelous spectacle. While some believe that Santorini is the remnant of the lost civilization of Atlantis, we simply call it paradise.
Arrival 12:00 pm/Departure 12:30 am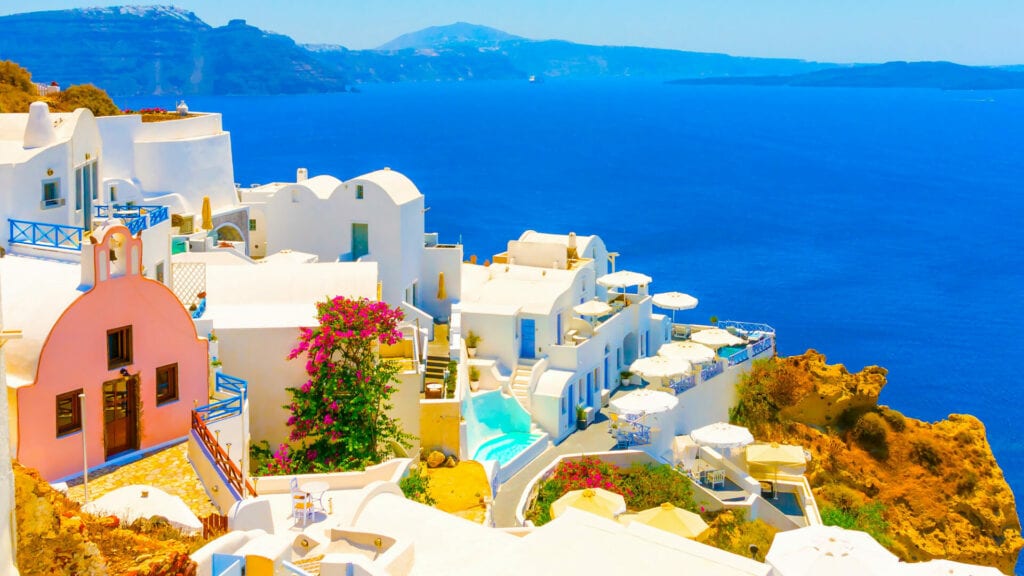 Paros
The island of Paros is a large, hilly, and fertile island, famous for its white marble. Along the quays of Parikia, its main town, you'll see Byzantine churches and neoclassical buildings. To make the most of the turquoise waters, you can stopover in Naoussa. This little fishing port is bounded by a very beautiful cove.
Arrival 8:00 am/Departure 6:00 pm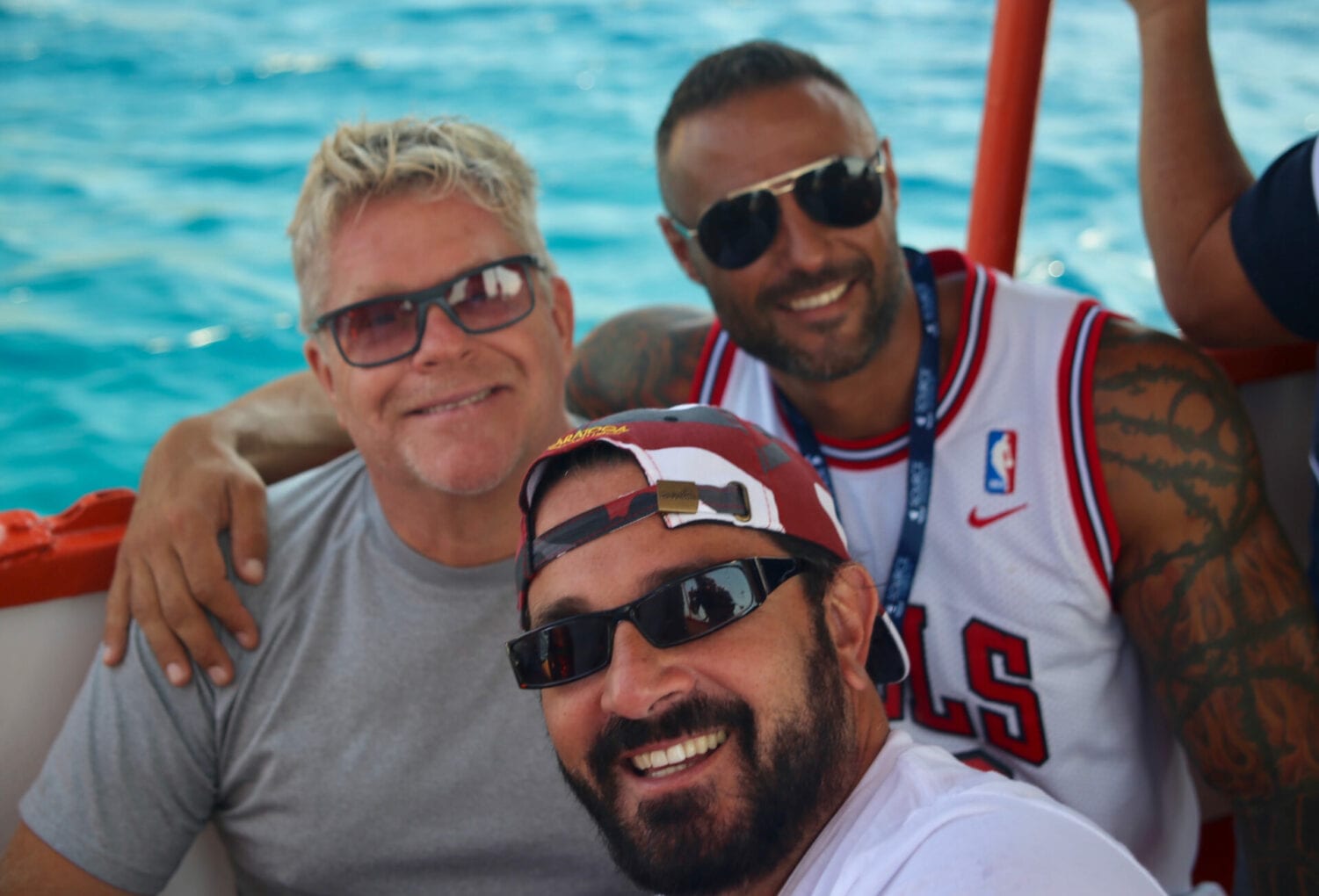 Skopelos
Though famed for its starring role in the 2008 film Mamma Mia!, Skopelos has managed to hang on to its low-key charm. Pine forests, olive grows, rippling vineyards, and orchards of plums and almonds carpet this handsome island. Its sheltered southeast coast harbors a string of sand-and-pebble beaches, while the Northwest coast's high jagged cliffs are exposed to the elements. We highly recommend an ABBA playlist to accompany you on this charming island.
Arrival 10:00 am/Departure 11:59 pm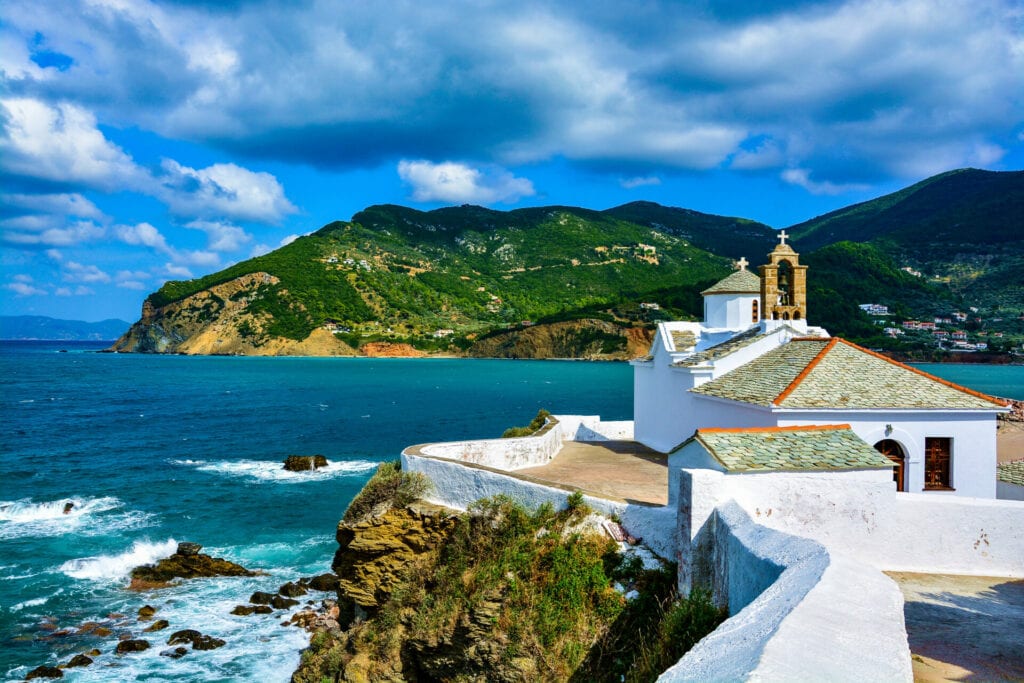 Limnos
Limnos is the perfect Greek Island for a swim stop on the way to Istanbul! A volcanic island located near the Dardanelles Strait, Limnos was venerated during Antiquity. Legend has it that Hephaestus, the god of fire, had his forge here.
Now one of Greece's major seaside resorts, Limnos offers its visitors many superb sandy beaches. It is also home to several archaeological sites, such as the towers of Kastro, an ancient acropolis fortified by the Venetians, or the neolithic site of Poliochni and the city of Hephaestia. Renowned for its olives, fruits, wheat and honey, and for the authenticity of its inhabitants, Limnos is also known for the quality of its restaurants, ideal for tasting typical Greek dishes.
Arrival 8:00 am/Departure 1:00 pm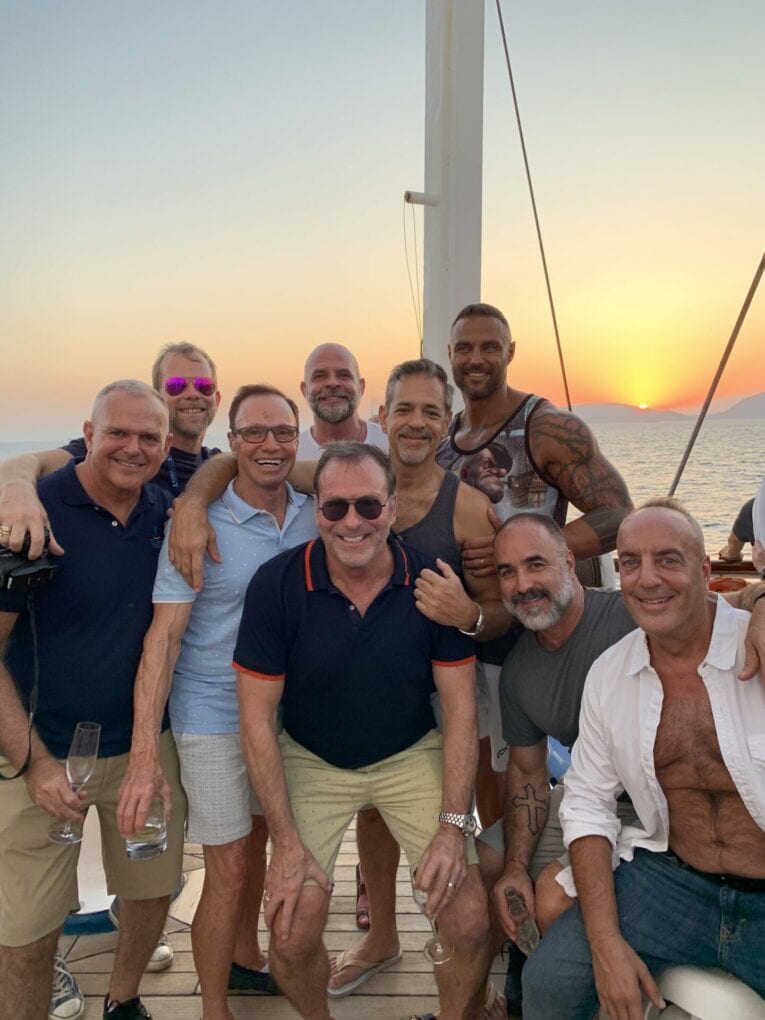 Sailing the Dardanelles
The Dardanelles Strait is an emblematic, 61 km-long waterway connecting the Aegean Sea with the Sea of Marmara. It is strategic for controlling passage between the Mediterranean Sea and the Black Sea. Like the Bosporus, or Strait of Istanbul, it separates Europe from Asia. A surface current flows along it, while a more saline undercurrent flows in the opposite direction. Along the strait, you will be able to admire hilly landscapes and arid lowlands brightened by fields and groves of olive trees.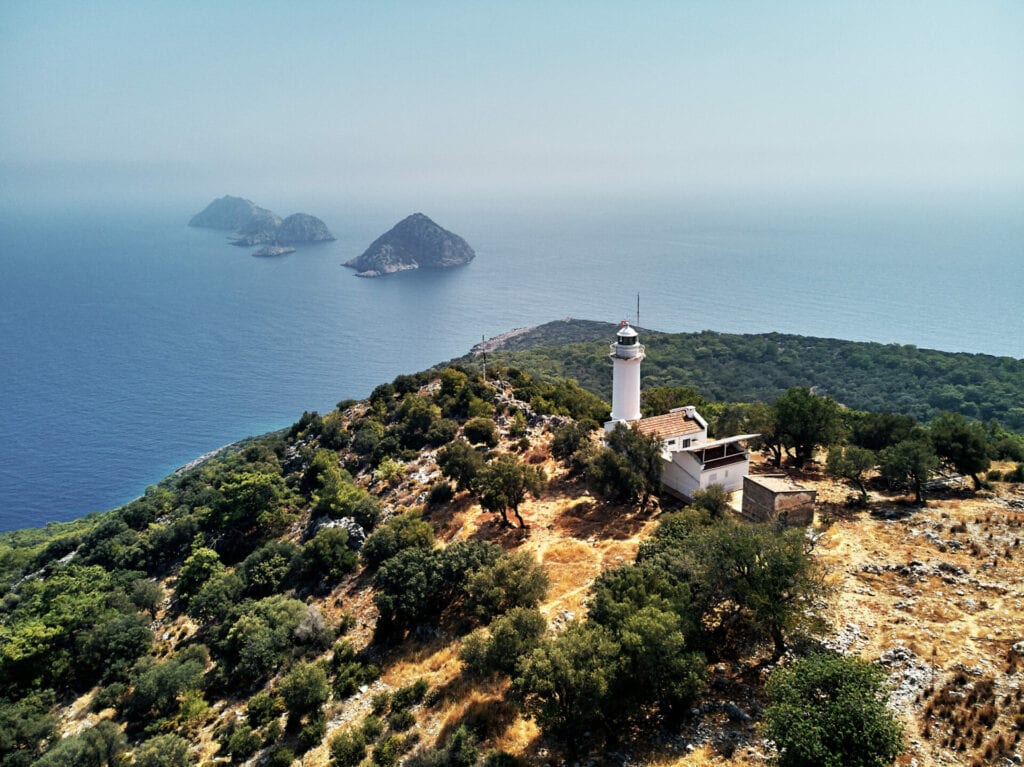 Istanbul
Located on the Bosphorus, Istanbul is one of the most beautiful of all Turkish cities. Named Byzantium when founded by the Greeks, and then Constantinople under the Roman Empire, this city is steeped in history and, for this reason, is a listed UNESCO World Heritage site. Located on Sultanahmet hill, the great Blue Mosque, the mysterious Hagia Sophia, and the vast Topkapi palace and its countless mosaics, dominate the Marmara Sea. In the Beyazit district, the Grand Bazaar allows to the discovery of elegant, covered passages. A little further away, the delicate aroma of loukoum and spices will draw the visitors' attention at the Egyptian Bazaar.
Arrival 7:00 am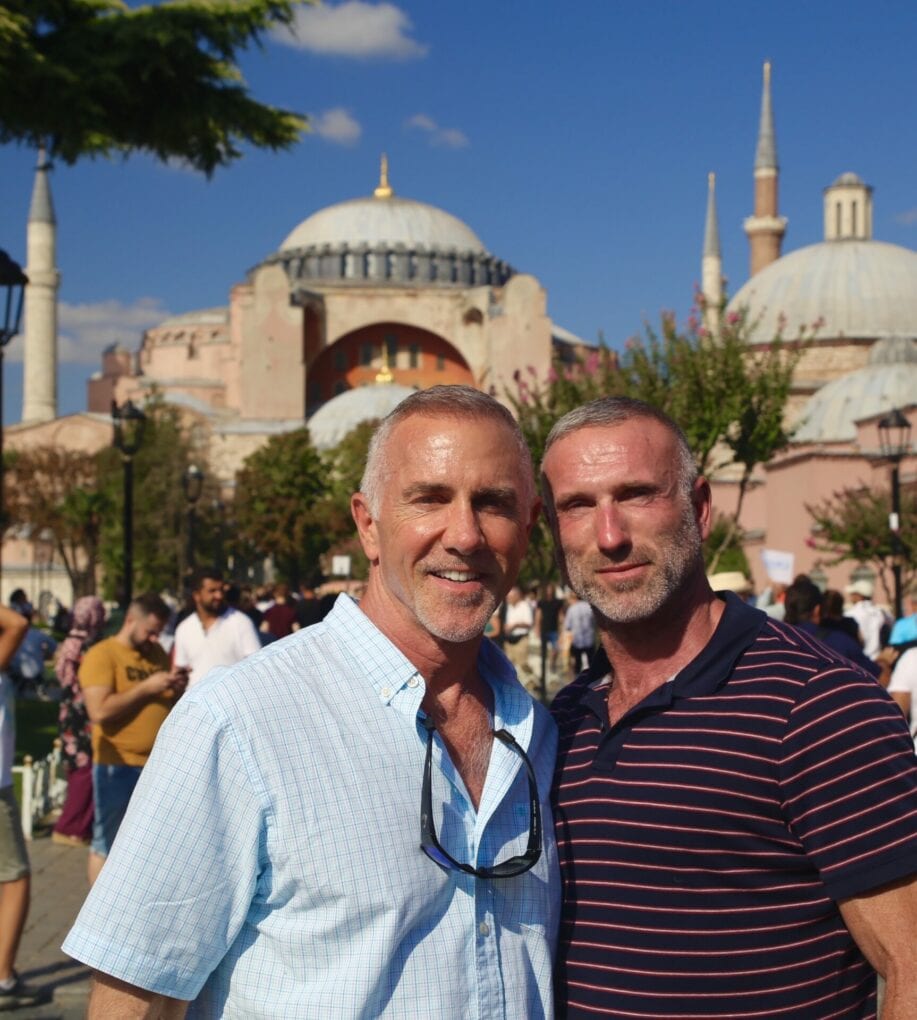 Pre-Cruise Stay at the Electra Metropolis Athens Hotel
The "Electra Metropolis" is a new 5-star hotel in the heart of Athens. It is situated at the beginning of Mitropoleos Street next to Syntagma Square, the most famous square in Greece, and has been welcoming business travelers and holidaymakers to Athens since September 2016. This luxury lifestyle hotel is near many Athens tourist attractions.
This new jewel of Athens is founded on the values ​​of "Electra Hotels & Resorts", and has 216 luxurious and fully equipped suites and rooms with views of the Acropolis and the old neighborhood of Plaka. There is also an impressive atrium in the center of the hotel which is surrounded by restaurants, cafes nearby.
The hotel also has a unique Roof Garden with a spectacular view of the Parthenon and the entire city. So, if you are wondering where to stay in Athens, Greece, or how to spend your Athens holidays, then the Electra Metropolis Hotel is definitely one of the best hotels to stay in Athens.
The following rates apply:
3 Nights Stay – July 30-August 2, 2022. Rates include Breakfast, taxes, Standard Wifi, and Transfers to the Ship
$580 per person based on Double Occupancy – Classic Rooms
$915 per person based on Double Occupancy – Deluxe Acropolis View Rooms
$1,350 per person based on Double Occupancy – Acropolis View Suites
2 Nights Stay – July 31-August 2, 2022. Rates include Breakfast, taxes, Standard Wifi, and Transfers to the Ship
$395 per person based on Double Occupancy – Classic Rooms
$615 per person based on Double Occupancy – Deluxe Acropolis View Rooms
1 Night Stay – August 1-2, 2022. Rates include Breakfast, taxes, Standard Wifi, and Transfers to the Ship
$205 per person based on Double Occupancy – Classic Rooms
To Reserve hotel packages, please email reservations@sourcejourneys.com which package option you would like. Room Rates are guaranteed and based on availability. Reservations require a $200 deposit per person. Room reservations can be canceled prior to June 02, 2022. Hotel Packages are non-refundable after June 02. Check-in time: 3 pm – Check-Out: 11 am.
Extend your journey by joining us on our Magic of Istanbul and Cappadocia adventure!
Post-Cruise Option
Source Journeys invites you to extend your adventure by joining us on our Magic of Istanbul and Cappadocia extension. Find out more about this exciting option by clicking the link below.
The Source Ponant Experience
Le Jacques Cartier – Ponant
The Source Onboard Experience
Embarking on a Source-Ponant luxury expedition is to cruise with the finest in the industry. With sophisticated styling, innovative "green" technology, and welcoming, attentive service, Source is proud to premier Le Jacques Cartier, Ponant's newest state-of-the-art Explorer Series yacht. This modern yacht feature a sleek design, just 92 staterooms and suites, and a highly experienced crew. The Source and Ponant crew are committed to providing attentive service, ensuring you have an exceptional voyage with memories you'll always treasure.
A typical day aboard…
Because our cruises combine exploration, fun, enrichment, and elegance, we offer exceptional services worthy of the highest standards of luxury, whether it's onboard or during excursions or outings.
 Days filled with possibility and new adventures…
Wake up aboard every day onboard your Source-Ponant voyage in a stateroom or suite with luxe amenities…luxury bedding, fully stocked minibar, Hermes french toiletries, and a private balcony. Enjoy breakfast a la carte in your room, on deck in the open air, or in our elegant gourmet restaurant with a decidedly French flair.
After breakfast, you may venture off the ship for sightseeing or a guided tour or indulge in the ship's pleasures. Morning yoga, the fitness center, or a relax in the spa with massage, steam bath, or facial are ideal ways to stay connected with your source. Lunch as you choose…in the more formal setting of Le Restaurant Gastronomique, or perhaps staying ashore to sample the local fare in today's port of call.
On Source-Ponant voyages, beverages, from soft drinks to house wine and spirits, are always complimentary. The afternoon gives you more options…create memorable moments at seaside tavernas and beaches…enjoy water activities such as kayaking and paddle-boarding from the ship's innovative three-level marina platform. Chill out by the pool, take in a Source enrichment talk in the lounge, and gather with friends by the pool at sunset for T-dances with the eclectic sounds of our resident DJ.
Night time brings out the stars…
Enjoy cocktails with friends in Ponant's groundbreaking Blue Eye, the first-ever multi-sensorial lounge – located beneath the water line – that allows you to see, hear, and virtually feel marine life in the deep blue sea!  Tonight, dine with new friends in your choice of restaurant, or sneak away for a romantic candlelit dinner, out on deck.
Dance under the stars at Source theme parties or be entertained by them at the Grand Salon or Le Theatre. Sing along to your favorite tunes at the piano bar.  Enjoy a film on the big screen.  And when it's time to turn in, your bed will be turned down with a sweet treat. Throughout this Source-Ponant Voyage, you'll experience fine dining with gourmet French cuisine, special entertainment, and the company of like-minded friends.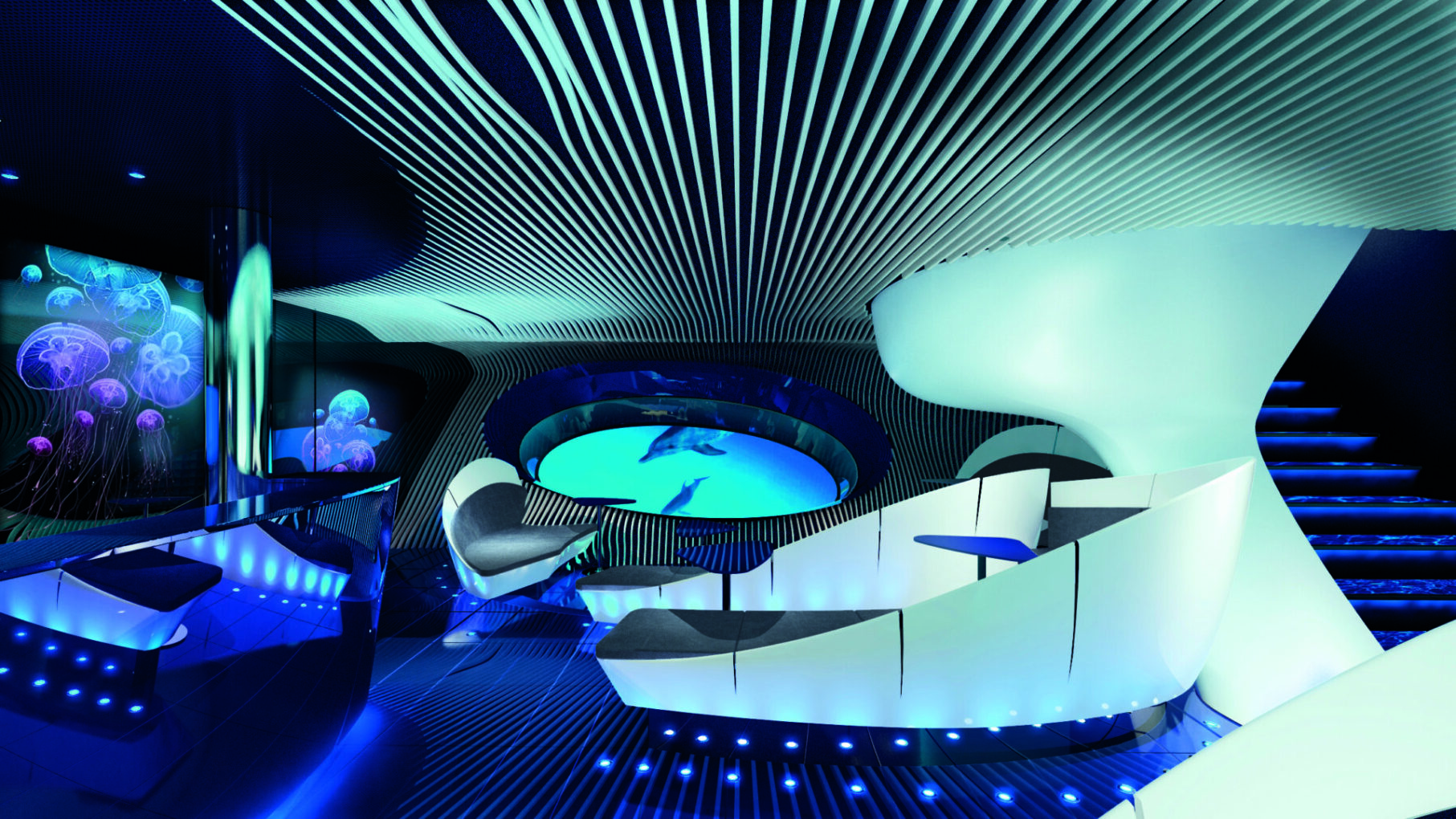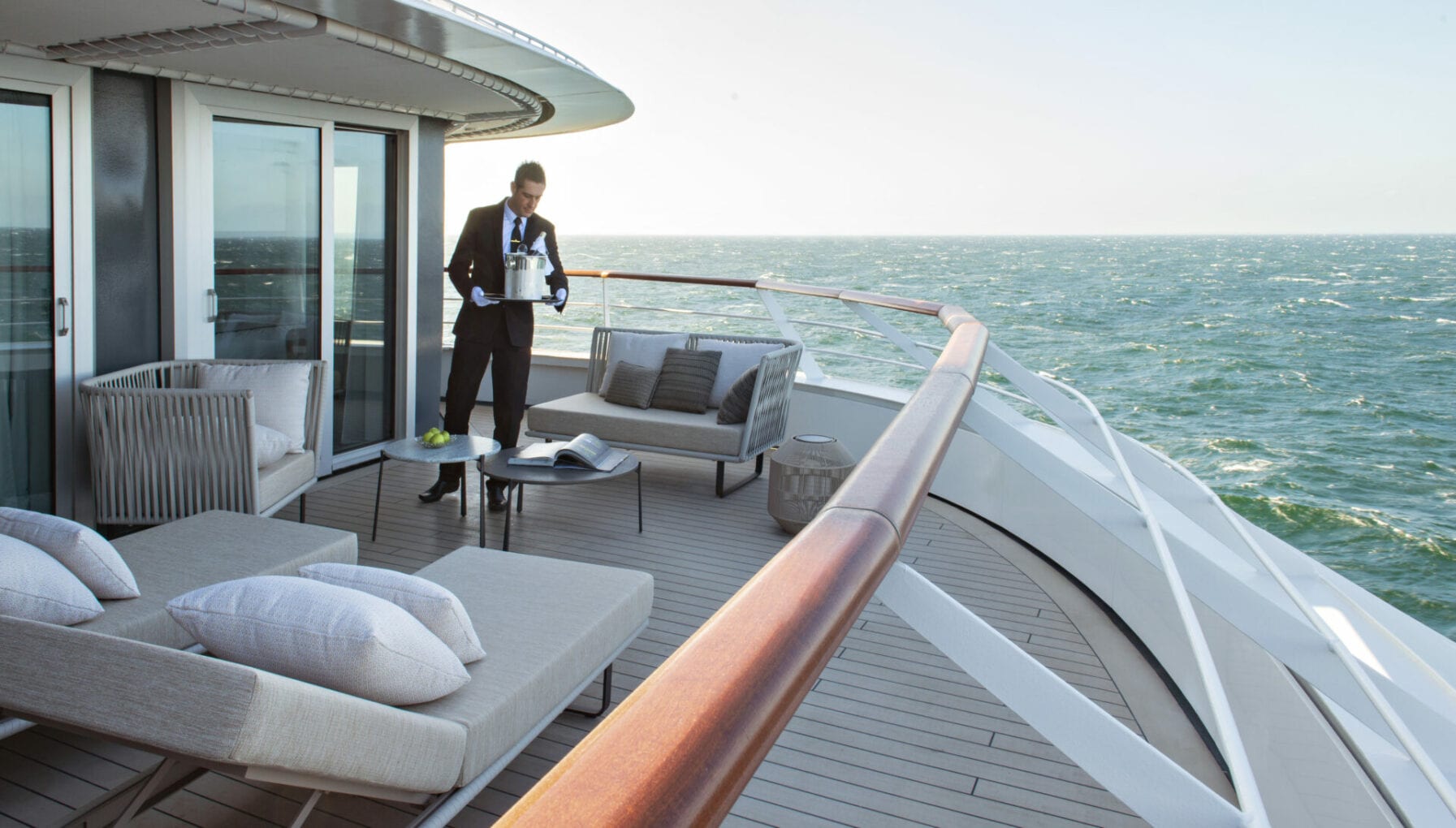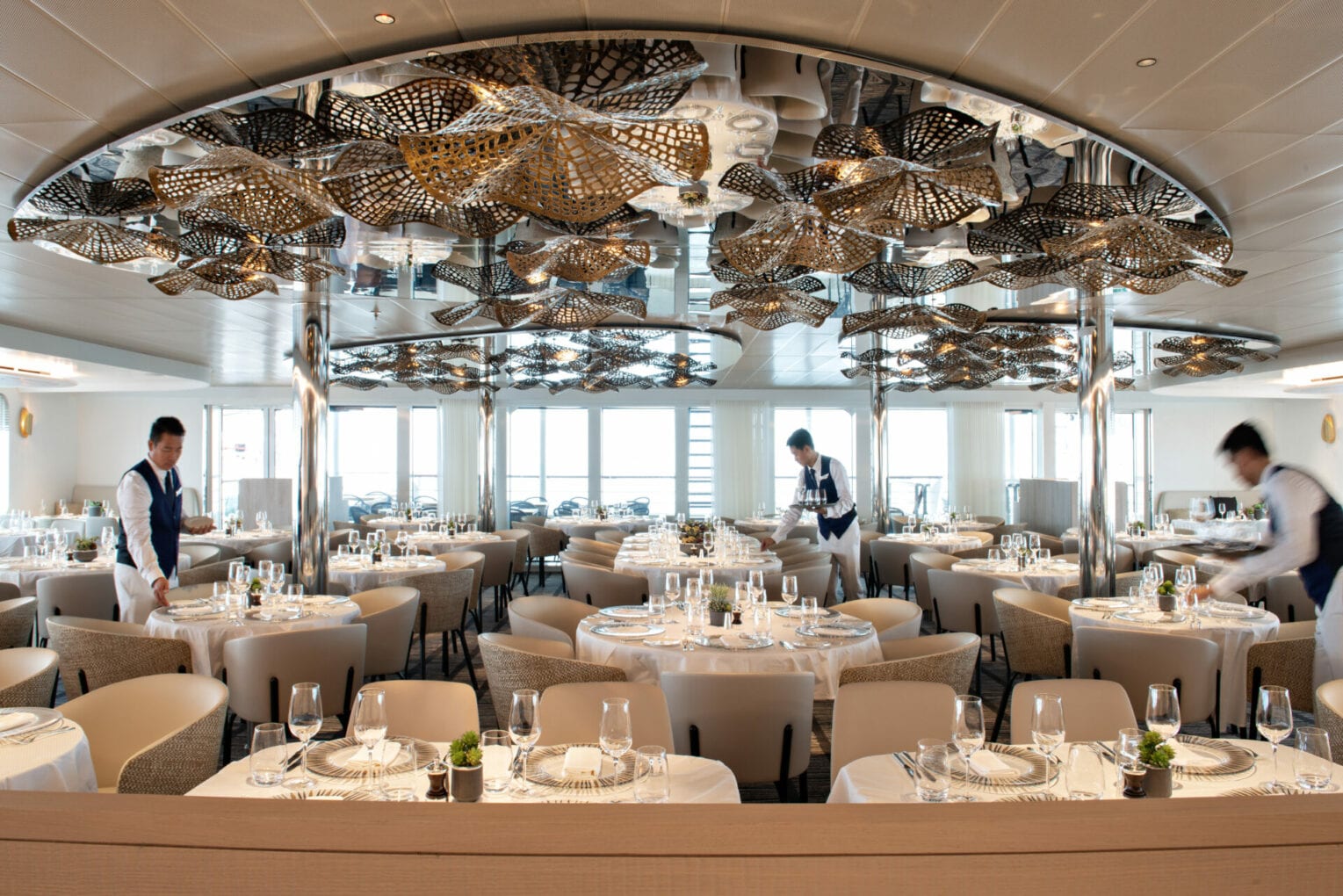 Source Journeys Onboard Entertainment
Source Journeys knows you are joining us to experience extraordinary parts of world. We believe your on-board experience between destinations should be just as memorable. We take pride in curating world class entertainers and DJ's to ensure your journey with us is filled with music, laughter, and joy. Here's who will be performing on this luxury gay cruise.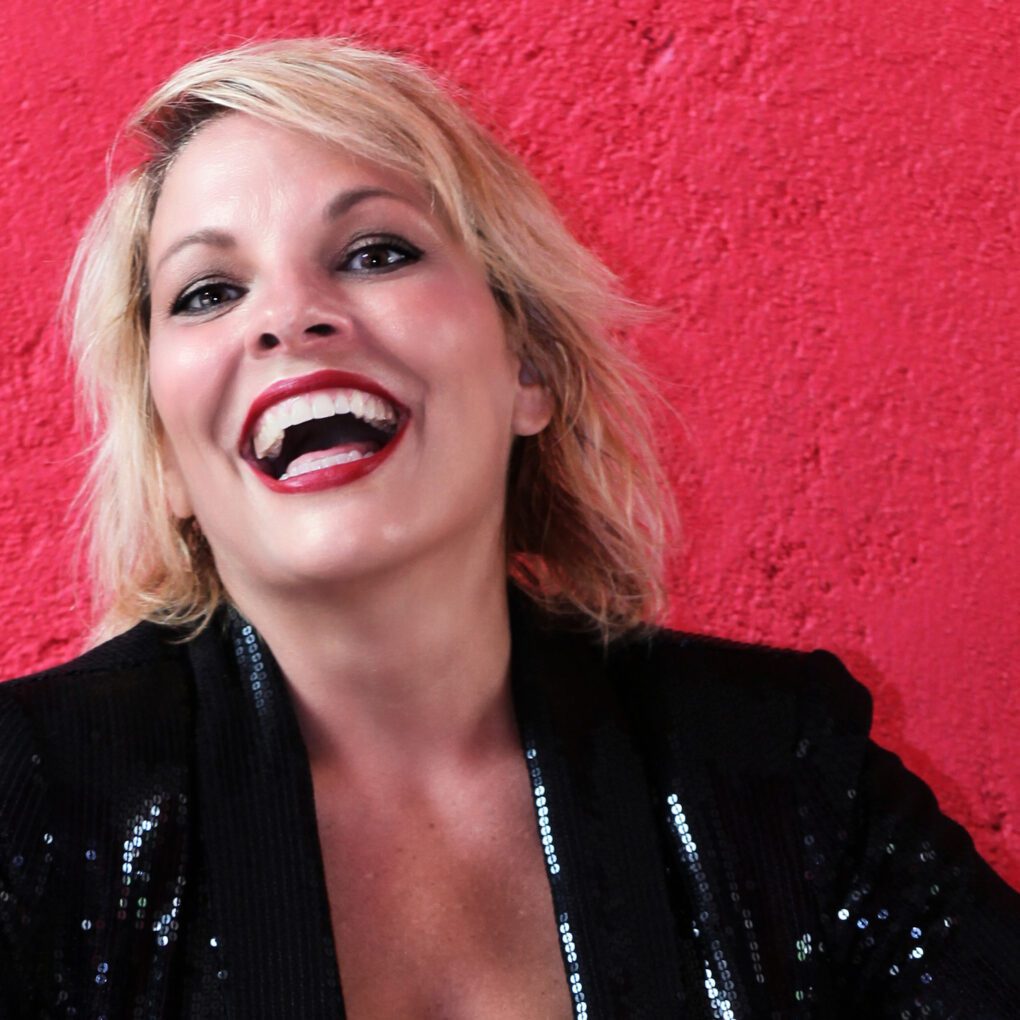 Anne Steele
Anne Steele is a multi-award winning singer/ songwriter from NYC and is thrilled to be making her Source Events debut. She released her newest EP of original music titled Made Out Of Stars in 2019 and is currently touring across the US and abroad. She has been performing on the high seas with Atlantis Events, RSVP Vacations, R Family Vacations and Olivia Travel for over 15 years.
Steele released her first EP of original music titled What's Mine, in 2015 and toured extensively throughout the US and abroad. She has performed along side Cyndi Lauper at the Home For The Holidays concert at The Beacon Theater in NYC for the True Colors Fund. Anne's single, "Love Can Take Us There", was released in 2016, with all proceeds benefitting victims of The Pulse Nightclub shooting. The single was chosen as the official Provincetown Carnival Anthem for 2016.
"After listening to this EP, Made Out Of Stars, I'm convinced that Steele herself is made out of heavenly, cosmic stuff. Sporting a million-watt smile, a voice as clear and bright as a bell, and a heart of gold, Steele's music sounds like a good friend—the kind you call when you need lifting up. One of the pleasures of female-driven pop is its ability to tap into the anthem of the self: the best female pop vocalists amplify positive feelings and give us hope that we can transcend obstacles. And when music's as good as Made Out Of Stars I think we all get to shine a little." – Merryn Johns, Curve Magazine, Feb 2019.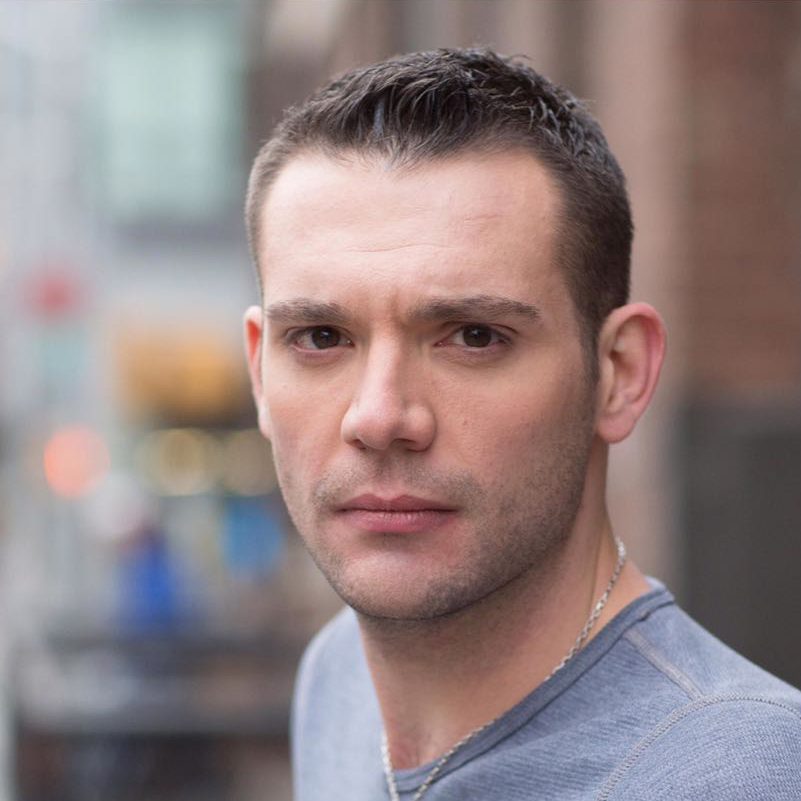 William TN Hall
William is a composer, arranger, teaching artist, music director and performer in New York City. He has contributed music to two musicals currently available for licensing: Methtacular!(Off Broadway, TIME Out New York Critic's Pick) and Songs for a More Funnier World (NYMF Award Winner)
He has written music for numerous plays and film and special material for performers including Tony winner Nikki M. James and MAC award winner Amy Wolk .
William is currently on tour with multi award winning singer/songwriter Anne Steele.
William is proud to be musical director for R Family Vacations. He has worked extensively in LGBT entertainment whether it be with RuPaul's Drag Race Stars or performing on world-famous RSVP and Atlantis cruises. He was also pianist to the legendary late Joan Rivers at her New York engagements.
William is a two-time MAC award winner and 2018 Broadwayworld Winner. He is an alumnus of the BMI Advanced Musical Theatre Writers Workshop. His sophomore and debut albums Heights Traffic and Beacon: Holiday Improvisations is available on all digital platforms. More at info@WilliamTNHall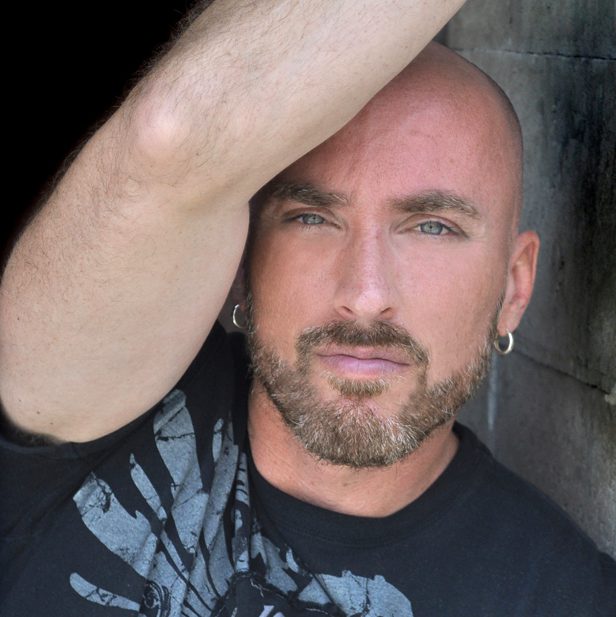 Christopher Racine
Sound and light literally define the life that Michigan-born, Provincetown-based DJ and lighting designer Chris Racine has lived. The first things he can physically recall are the flashing beacons of ambulances and police cars and the voice of his first responder uncle calling to him, rescued from a horrifying collision between a van full of children and a semi. The medical team who treated him in the wake of this catastrophic event noted that he especially liked things that spin and blink. Home from the hospital, Racine began to play with sound and light, demonstrating a creative resourcefulness that has become a hallmark of his career.
He took his family's Christmas lights display into his room; "I would string up the lights and plug and unplug them to disco music," he says, "then, one day, I realized the electrical pulses that run a speaker could also work bulbs. I hooked up the Christmas lights to speaker wires and tried out different ways of making them blink to the beat. In eighth grade, I put on a school dance just so I could do lights," he says. "I had an electrician make me a four-way switch and made Christmas lights spin.I was the popular guy for a week. "
His 'big break' came as a chance opportunity; he walked into a local club, just before the changeover to a 21-and-over venue, and he noticed the DJ having trouble with the sound system. "That evening, the sound system broke down, and I fixed it," he says. The club hired Racine on the spot. "I couldn't sleep for days. I knew that I had just discovered what I wanted to do for the rest of my life." His career took him to bigger and better-equipped clubs- "I almost didn't care about the DJ part," he says. "I would make people think it was about the music, then I would slowly make changes to the lighting. I would stay on when everyone went home and teach myself how to program lights. I had to learn mixing really quickly," he says with a laugh.
With brief interludes in Florida and on cruise ships, DJing where needed and restructuring the big club hits of the '90s at the Hot Tracks Remix Service, Racine has been in Provincetown ever since, working at the Crown & Anchor and the Art House, where he met collaborator Shelley Jennings in the 2010s, defining the light displays for P-Town's Bear Week and the Portuguese Festival. One of the first DJs to create a whole experience in which he would re-edit and beatmix video as well as incorporating a graphic interface for the videoscreens at nightclubs, Racine worked with the biggest names of the late '90s/early aughts circuit (Tony Moran, Joe Gauthreaux, Susan Morabito, Phil B) at events spanning the world.
Now, Chris Racine is one of the preeminent lighting designers working today, using the very cityscape of Provincetown as a recurring canvas even as he maintains his versatility for crafting unique and dynamic experiences for anyone who derives pleasure from the kinesthetic majesty of light and sound, the defining aspects of being alive.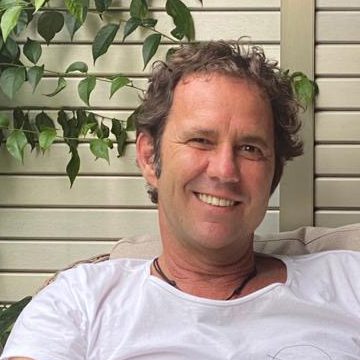 Juan Juliá Blanch
Juan Juliá Blanch is the founder and owner of Axel Hotels. AXEL HOTELS is a small hotel chain specialized in the LGBTQ+ community. Axel Hotels was founded in 2003 with the opening of the first Axel Hotel in Barcelona. Juan Juliá has been involved in the gay community since the early thirties, when he opened the Axel Barcelona. Juan has also engaged with young entrepreneurs by mentoring and speaking at different conferences and universities. Since 2020 he assists others in their development as human beings through personal sessions or in the retreats he guides and organizes based on yoga, meditation, sound healing and breathwork.
Owner's Suite
484 sq.ft. + 430 sq.ft. private patio + Jacuzzi
Grand Deluxe Suite
484 sq.ft. + 323 sq.ft. private terrace
Deluxe Suite
296 sq.ft. + 65 sq.ft. private balcony
Prestige Suite Deck 5,6
409 sq.ft. + 130 sq.ft. private balcony
Privilege Suite Deck 5,6
344 sq.ft. + 86 sq.ft. private balcony
Prestige Stateroom
210 sq.ft. + 65 sq.ft. private balcony
Deluxe Stateroom
210 sq.ft. + 65 sq.ft. private balcony

Deck 3

Deck 4

Deck 5

Deck 6

Deck 7
| Key | Cabin Class | Price | Availability | Book Now |
| --- | --- | --- | --- | --- |
| | Owner's Suites-Deck 5 | $19,948 / person | Limited | BOOK NOW |
| | Grand Deluxe Suites-Deck 6 | $17,638 / person | Limited | BOOK NOW |
| | Prestige Suite-Deck 6 | $12,809 / person | SOLD OUT | CALL NOW! |
| | Prestige Suite-Deck 5 | $12,598 / person | SOLD OUT | CALL NOW! |
| | Privilege Suite-Deck 6 | $10,298 / person | SOLD OUT | CALL NOW! |
| | Privilege Suite-Deck 5 | $9,989 / person | SOLD OUT | CALL NOW! |
| | Deluxe Suite-Deck 6 | $7,298 / person | SOLD OUT | CALL NOW! |
| | Deluxe Suite-Deck 5 | $6,998 / person | SOLD OUT | CALL NOW! |
| | Deluxe Suite-Deck 4 | $6,698 / person | SOLD OUT | CALL NOW! |
| | Deluxe Suite-Deck 3 | $6,398 / person | SOLD OUT | CALL NOW! |
| | Prestige Stateroom-Deck 6 | $5,298 / person | Limited | BOOK NOW |
| | Prestige Stateroom-Deck 5 | $4,998 / person | Limited | BOOK NOW |
| | Prestige Stateroom-Deck 4 | $4,698 / person | Limited | BOOK NOW |
| | Deluxe Stateroom-Deck 3 | $4,398 / person | WAIT LIST | CALL NOW! |
Included in this Journey
All Deluxe Accommodations
All meals and snacks
Round-the-clock beer, wine, and top-shelf spirits, plus all non-alcoholic beverages including Stateroom minibar
24 Hr Room service
Butler Service for Suites
Hermes bath amenities
Wi-Fi throughout the Ship
Source special entertainment
Not Included in this Journey
Port Fees of $360 per person
Prepaid Gratuities $130 per person
International or Domestic Airfares
Pre and post-cruise extensions
Spa services
Optional excursions
Onboard Laundry services
Please Note: A valid passport should have at least two blank visa pages and should be valid for at least six months beyond the return date. If imposed by the cruise line, there may be a $90 per passenger fuel surcharge fee. Non-US Passport holders may be required to secure a visa. Arrival Airport Athens (ATH) and Departure airport Istanbul (IST). Proof of COVID-19 vaccination and booster will be required. Antigen test will also be required to board the ship on August 2nd.