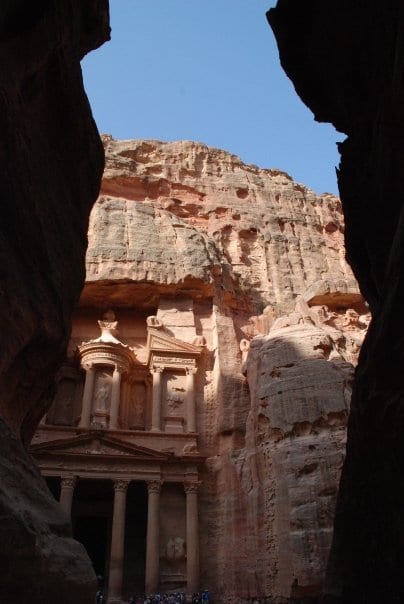 Petra, Wadi Rum, and the Dead Sea
December 16-20, 2023
4 Nights / 5 Days
from
$2,399 per person
You've come this far, so why not extend your adventure after our Treasures of Egypt trip? Enjoy a night in Amman, a city of hills, featuring Roman ruins, and a hubbub of mosques, souqs, and coffeehouses. Then it's on to the majestic Wadi Rum, a valley with a maze of monolithic rockscapes dramatically rising up from the golden desert floor.  Lawrence of Arabia was filmed here, as well as the Martian, and you'll have the unique experience of spending the night in the spectacular futuristic martian domes of Sun City. Enjoy a jeep tour giving you a glimpse of Bedouin life, yoga, a camel ride, or simply connect with the universe as you gaze at the sun and moon, and stars.
Your adventure continues in the magnificent "rose-red" city of Petra, name one of the new 7 wonders of the world.  You approach Petra through the legendary 1.2 km long, high-sided Siq. This is not a canyon, but rather a rock landmass that has been rented apart by tectonic forces. Just as you start to think there's no end to the Siq, you catch breathtaking glimpses ahead of the most impressive of Petra's sights, the Treasury! There are many more masterpieces to explore in this spectacular city.
A journey to Jordan wouldn't be complete without floating in the healing, mineral waters of the Dead Sea, the lowest place on earth. Take in the breathtaking beauty and the modern mineral spas that soothe and pamper every fiber of your body. After a day of relaxation, enjoy a farewell dinner on the banks of the Dead Sea, celebrating the adventure of a lifetime.
JOURNEY HIGHLIGHTS:
Tour Amman's ancient ruins

Overnight in the spectacular Mars-like landscapes of Wadi Rum

Enjoy a Champagne toast at sunset in Wadi Rum

Explore Petra, one of the 7 World's Wonders

Float in the healing waters of the Dead Sea

Enjoy private guided tours & Luxury Accommodations throughout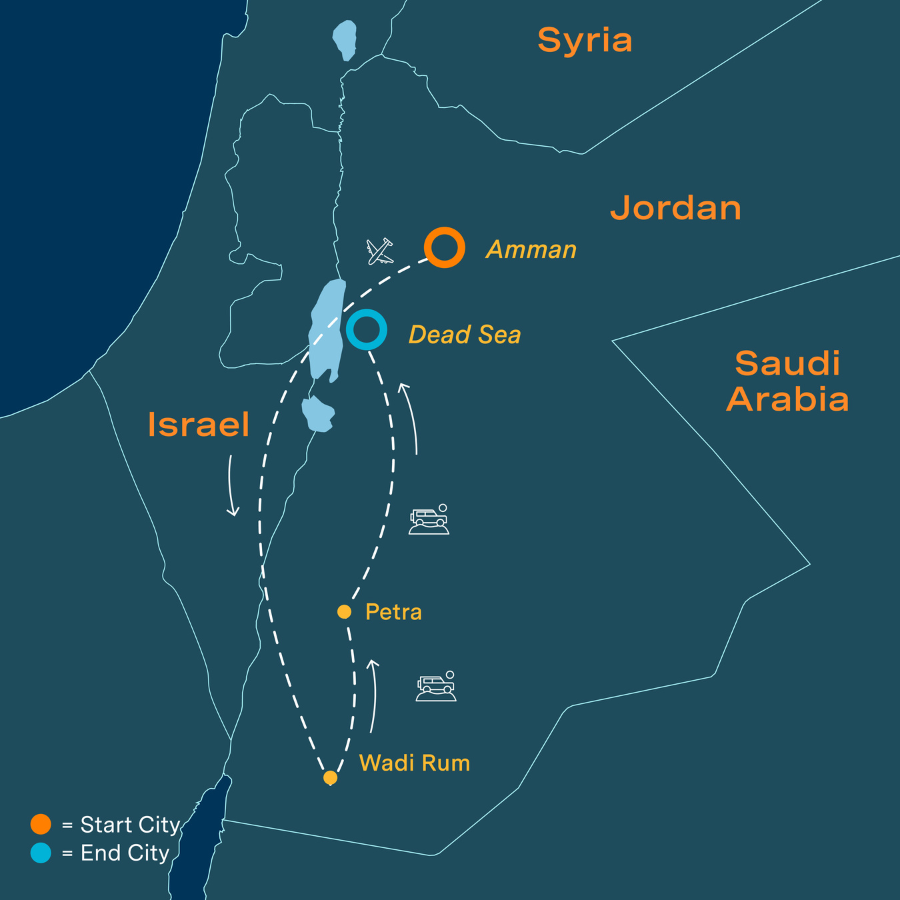 Amman
Welcome to the Hashemite Kingdom of Jordan, a country with outstanding ancient history, biblical sites of importance, and beautiful desert landscapes. Upon arrival at Amman airport, disembark your plane and walk down a short corridor where our airport representative is waiting to assist you with your entry visa, through immigration, and on to baggage reclaim. Once we have cleared visa desks exit to the arrivals hall where you meet our driver and transfer to the hotel. Amman City Tour optional The Citadel which towers above the city from atop Jabal al-Qala'a is a good place to begin a tour of the city. The Citadel is the site of ancient Rabbath-Ammon, and excavations here have revealed numerous Roman, Byzantine, and early Islamic remains. The most impressive building of the Citadel, known simply as al-Qasr ("the Palace"), dates back to the Islamic Umayyad period. Its exact function is unclear, but it includes a monumental gateway, an audience hall, and four vaulted chambers. A colonnaded street also runs through the complex. To the north and northeast are the ruins of Umayyad palace grounds.
Four Seasons Amman
Amman – Wadi Rum
After Breakfast at the hotel, check out, meet our guide and driver at the hotel's lobby, and drive to Wadi Rum. It takes around 4 hours' drive. Otherwise known as Valley of the Moon, Wadi Rum is the largest – and most magnificent – of Jordan's desert landscapes and has been virtually untouched by humans. A maze of monolithic rock formations rises from the desert floor to heights of 1,750 meters (5,740 feet), creating a natural challenge for serious mountaineers. However, Wadi Rum may be best known for its connection with British officer T. E. Lawrence, who passed through several times during the Arab Revolt of 1917–18. In the 1980s one of the rock formations in Wadi Rum was named "The Seven Pillars of Wisdom" after Lawrence's book penned in the aftermath of the war, although the 'Seven Pillars' referred to in the book have no connection with Rum. Enjoy a Champagne toast at Sunset
Palmera Camp
Wadi Rum – Petra
Have breakfast at your camp. Check out, board our vehicle, and transfer to Petra. Upon arrival, walk to Petra's Visitors' Center to start your tour of the archaeological site. Begin your visit with an optional horse ride from the main gate of Petra to the entrance of the old city. Then walk on foot along to the Siq (entrance). The ancient city of Petra was built between 800 BC to AD 100 by Nabatean Arabs. In this era, Petra was a fortress, carved out of the jagged rocks in an area, which was virtually inaccessible. In the first and second centuries, after the Romans invaded, the city reached the peak of its fame.
Movenpick Hotel Petra
Petra – Dead Sea
After breakfast, Check out to board your vehicle for your transfer to your hotel at the Dead Sea. The Dead Sea has a historical and spiritual legacy of its own. It is believed to be the site of five biblical cities: Sodom, Gomorrah, Admah, Zeboiim, and Zoar (Bela). At 400 meters below sea level, the Dead Sea is infinite in what it has to offer. Since Herod the Great, people have flocked to the Dead Sea for its curative secrets. Due to high annual temperatures, low humidity, and high atmospheric pressure, the air is highly exogenous, and the high content of oxygen and magnesium in the air makes breathing a lot easier. With the highest range of minerals and salts in the world, the Dead Sea water possesses anti-inflammatory properties, and the dark mud found on the shores has been used for over 2000 years for therapeutic purposes. Enjoy the rest of your day at leisure. We will have a Farwell dinner at Ashur Restaurant.
Kempinski Hotel Ishtar Dead Sea
Pre-Trip: Treasures of Egypt, December 7-16, 2023
Continue the adventure and join the Source Journey's team to experience Treasures of Egypt. The Great Pyramids of Giza and other treasures of Egypt have beckoned travelers for more than two millennia. On this luxury small group journey, visit venerable tombs and temples to piece together the life and times of one of the world's greatest ancient civilizations.
Four Seasons Amman
Discover and experience a crown jewel in the heart of Jordan's bustling capital city: Four Seasons Hotel Amman, a majestic luxury hotel set atop the highest of the White City's famous seven hills.
Palmera Camp
In the heart of Wadi Rum's majestic desert, stands the incredible Palmera Camp offering serenity and a spiritual soothing experience of living in the desert and enjoying the simple Bedouin life of the valley with its unmatched authentic charm and beauty. Such an experience is featured through a variety of high-standard services, amenities, and accommodation options to choose from alongside a wide range of relaxing and adventurous recreational activities. The camp is located in Wadi Rum about 60 km from Aqaba city and 313 km from Amman. Upon arriving, guests will be welcomed with a fresh juice and scented refreshing face towels that will initiate the amazing journey in the desert.
Mövenpick Hotel Petra
The Mövenpick Resort Petra is located directly at the entrance to the historic Jordanian city of Petra. This resort with an oriental flair features an exciting combination of natural stone, handcrafted wood, and Middle Eastern fabrics and textures. With 183 rooms and suites plus a wide variety of restaurants for your culinary cravings, the Mövenpick Resort Petra will certainly provide long-lasting memories. Enjoy your time spent in one of the world's most extraordinary destinations.
Kempinski Hotel Ishtar Dead Sea
Welcome to the lowest point on Earth.
Situated on the edge of the famous salt lake, 434 below sea level and close to Jordan's top attractions, Kempinski Hotel Ishtar Dead Sea is a brilliant ode to the hanging gardens of Babel, featuring a private sandy beach and a 5-star luxury spa service that provides luxury experiences infused with Dead Sea rich minerals.
| Category | Double Occupancy | Single Occupancy | Availability | Book Now |
| --- | --- | --- | --- | --- |
| Deluxe Room | $2,399 / person | $2,999 / person | Available | BOOK NOW |
Included in this Journey
Meet & greet service upon arrival at Queen Alia International Airport
Accommodation on Bed & Breakfast Basis
Private English-speaking guide
Transfers and excursions by a private modern air-conditioned bus
Mineral water on the bus at all times
Amman City Tour with Lunch
2 Lunches, 2 Dinners
All entrance fees to the sites mentioned in the itinerary
Excursion in Wadi Rum by a 4×4 vehicle and Camel Ride
Portages at Hotels
Not Included in this Journey
Domestic & International Airfares
Visa Fees (If applicable)
Gratuities for guide, driver, etc
Meals not mentioned in the program
Travel Insurance (Highly recommended)
All items of Personal Nature
Horse Carriage in Petra
Please Note Passports: Your valid passport should have at least two blank visa pages and should be valid for at least six months after your planned departure from the country you are visiting. Arrival and Departure Queen Alia International Airport. Airport Code: AMM.