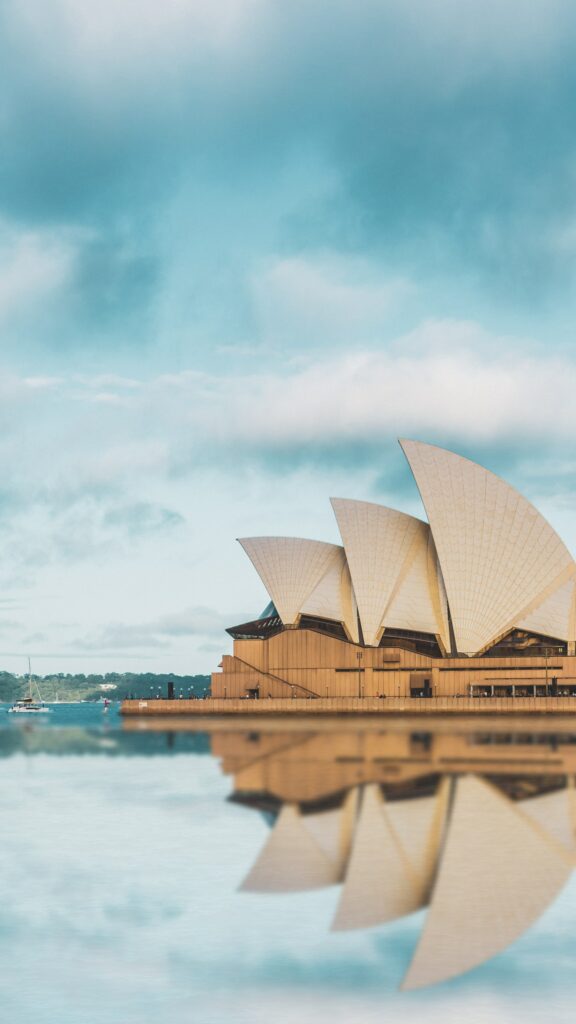 Australia & Sydney Mardi Gras
February 23 – March 4, 2024
10 Nights/11 Days
from $7,199 per person – Limited Availability
Join us Down Under to Experience Two World-Class Cities and One Unforgettable Mardi Gras
Australia is incomparable!  Awe-inspiring coastlines. Iconic cityscapes. The epic outback. It's a land filled with World Heritage sites and unforgettable experiences. And the Aussies certainly know how to throw a party, which is why we timed this LGBTQ+ small group adventure to coincide with Sydney's famous Mardi Gras.
We start our experience in Melbourne, where we'll discover the city's vibrant food, culture, and art scene. Then, we embark on one of the world's greatest road trips along the Great Ocean Road, where we'll witness the dramatic and rugged coastline that's home to the famous 12 Apostles.

But that's just the beginning. We head to the Australian Outback, where we'll encounter the otherworldly presence of "the Rock" – Uluru. This World Heritage Site is a must-see destination that's known for stunning colors at dawn and sunset, magical stargazing, and unforgettable outdoor special events. 

Sydney is a city spectacularly draped around its glorious harbor and beach with a visual wow factor like a few other cities. With 5 nights in Sydney, we'll have plenty of time for sightseeing, beaches, and gay Sydney nightlife. Best of all, Source Journeys is providing VIP tickets for the fabulous Sydney Gay Mardi Gras Parade and party after.  

Filled with World Heritage sites, unforgettable experiences, and fun-loving Aussies, it's no wonder that Australia & Sydney Mardi Gras has long been one of the most requested trips of Source Journey travelers.

JOURNEY HIGHLIGHTS:
Luxury Accommodations throughout  and Sydney Harbor View Rooms

Art & Foodie Tour of Melbourne

Iconic Road trip along the Great Ocean Road with incredible coastal views

Experience the colors, energy & spirit of Uluru

Special dining experience under the sparking outback sky

Exclusive tour with Bondi Beach lifesaver team

Sydney Tour &  Harbor Boat Cruise

Australia Wildlife Encounter with Koalas & Kangaroos

Tour Iconic Sydney Mardi Gras VIP Viewing and Official Party Tickets

Luxury LGBTQ+ Small Group Escorted Journey

Optional post-trip to Great Barrier Reef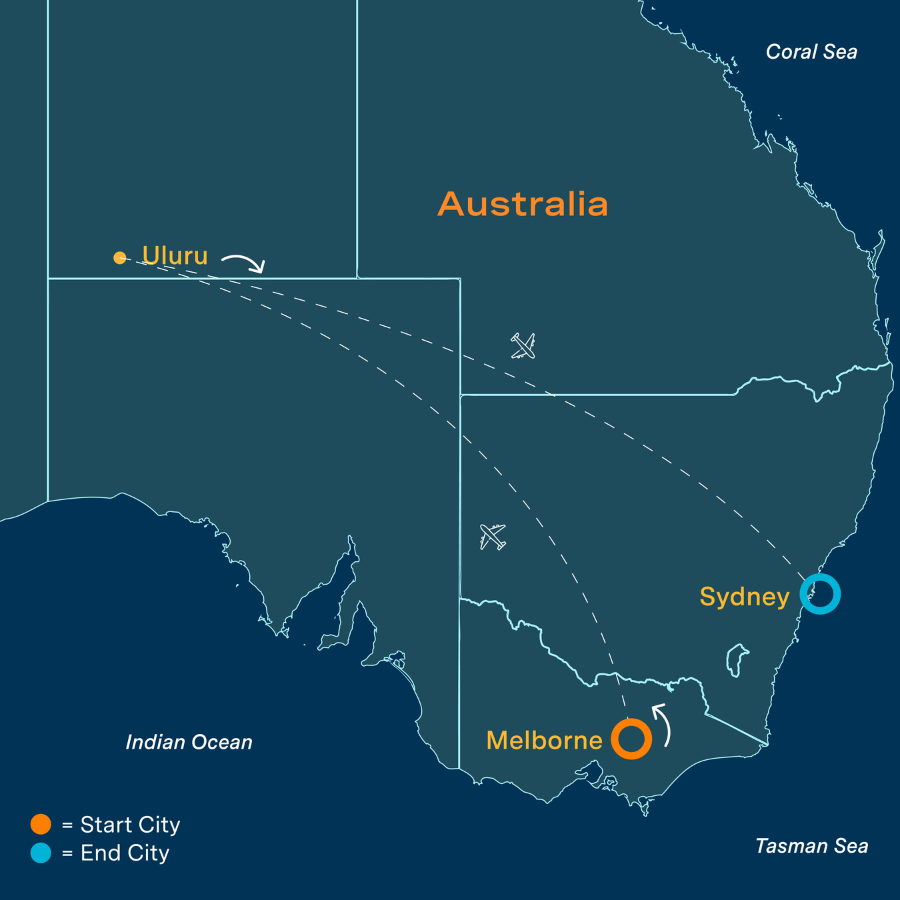 Melbourne
Welcome to Melbourne! Melbourne is often considered Australia's cultural capital filled with laneways, Museums, cafes, a vibrant Melbourne gay community, and of course the famous Melbourne trams.
On arrival into Melbourne, you'll be met by a representative dedicated to the arrivals hall and transferred by private car to our boutique luxury hotel QT Melbourne. Once checked in the rest of the day will be at your leisure.
QT Melbourne
Melbourne
Today, we will be exploring the city's vibrant culture on a walking tour. We'll wander through the city's alleyways, where we'll discover hidden gems like trendy cafes, eclectic boutiques, and vibrant street art.
Our first stop will be Melbourne's iconic Federation Square, where we'll take in the bustling atmosphere and admire the stunning architecture. We'll take a quick photo op on the picturesque Yarra River before heading to the heart of Melbourne's south bank. 
Take in the stunning views of the coast and the city skyline before we head to our final destination of the day – Lorne. Nestled away from the city, Lorne is a beautiful surf beach inlet surrounded by pristine nature. It's the perfect place to take a short evening stroll and enjoy the peace and tranquility of this hidden gem.
Mantra Lorne
Great Ocean Road to Melbourne
Today, we'll travel along the stunning coastline, taking in the dramatic views and visiting charming seaside towns along the way.
Our first stop will be at the Timboon Railway Shed Distillery, where we'll get an overview of the whisky distilling process and have the chance to taste some 'new make' spirit. We'll then indulge in a delicious lunch made with regional produce. We'll stop at the beautiful Loch Ard Gorge, where we can take in the fresh sea breeze and snap some unforgettable photos. Keep your eyes peeled as we drive along the coastal region – you might even spot some Wallabies or Kangaroos.
Our next destination is the iconic 12 Apostles. Marvel at these magnificent natural wonders from the boardwalk that runs along the cliffs, and enjoy free time to explore and capture some incredible photos. As we make our way back to Melbourne along the Great Ocean Road, we'll stop at the historic Cape Otway Lighthouse to stretch our legs and take in the breathtaking scenery.
Tonight, the evening is yours to enjoy at leisure. This is a perfect time to explore the many Melbourne gay bars and clubs.
QT Melbourne
Melbourne to Uluru
Welcome to Uluru! Today, we'll fly to Uluru and stay at the stunning Sails in the Desert hotel.  Take some time to relax, explore the hotel, and enjoy a leisurely lunch.
In the afternoon,  we will go on an unforgettable tour of Kata Tjuta and Walpa Gorge. Witness the breathtaking beauty of the desert landscape and feel the energy of this iconic site as we explore the unique geological formations and natural wonders of the region.
As the day begins to draw to a close, we'll make our way to the sunset viewing area near Uluru. Watch as the last rays of sunlight slip below the horizon, casting a warm glow across the desert plains. Marvel at the sheer size and magnificence of this geological masterpiece as it changes colors before your eyes.
As you soak in the incredible spirit and energy of this iconic location, you can sip a glass of sparkling wine and reflect on the beauty of the moment.
Sails in the Desert
Uluru
We rise early for an unforgettable sunrise experience at Uluru, followed by a base tour. That will provide a fascinating historical overview of the Uluru-Kata Tjuta National Park, home to the Aboriginal people for over 22,000 years. We'll then head to the mystical domes of Kata Tjuta (the Olgas) for a walk through Walpa Gorge, where we'll hear commentary on local stories, flora, fauna, and geology. We'll return to the resort mid-morning, where you can participate in complimentary activities such as boomerang throwing, bush tucker walks, cultural performances, didgeridoo playing (men only), or art markets.
After a leisurely afternoon spent relaxing at the pools or taking an optional helicopter tour of Uluru, get ready to enter the Australian Tourism Hall of Fame with Sounds of Silence, a magical experience that captures the essence of Uluru in one unforgettable evening. It all begins with canapes and chilled sparkling wine served atop a dune, overlooking the stunning Uluru-Kata Tjuta National Park. As the sun sets and darkness falls, we'll listen to the haunting sound of the didgeridoo and join our fellow travelers for an unforgettable evening.
 Sails in the Desert
Uluru to Sydney
After enjoying a delicious breakfast at our resort, feel free take some time to relax and soak up the stunning scenery of Uluru before heading to the airport for our flight to Sydney. Once we arrive in Sydney in the late afternoon, we will be transferred to our luxurious hotel, the Sofitel Darling Harbour Sydney, which boasts stunning views of the picturesque Darling Harbour. Go ahead and take some time to settle in, freshen up, and relax before embarking on our Sydney adventure. With the evening free to spend at your leisure, you can explore the vibrant city at your own pace with fellow travelers, indulge in a delicious dinner, have a drink at one of the popular Sydney gay bars, or simply unwind in the comfort of your hotel room. Whatever you choose to do, the excitement and energy of Sydney are sure to captivate you.
Sofitel Sydney
Sydney
G'day. mate. Today we embark on a historical walking tour of The Rocks, Sydney's early commercial and maritime quarter, and the birthplace of Australia. Explore beautifully restored dwellings, shops, warehouses, restaurants, and pubs. Then, we drive through the picturesque suburb of Paddington before heading to Bondi Beach. We will meet a true-blue Bondi lifesaver, learn about Bondi's history, and take an exclusive tour inside Australia's oldest surf lifesaving clubs. 
After lunch, we'll enjoy a private one-hour tour of the iconic Sydney Opera House, the busiest performing arts center in the world, featuring five main auditoriums, a reception hall, rehearsal studios, restaurants, theater bars, dressing rooms, administrative offices, and more.
Sofitel Sydney
Sydney
Today is a leisure day, so you can sleep in or enjoy a late breakfast at your hotel. And since it's Sydney Mardi Gras week, you can expect plenty of exciting events and activities to choose from. 
One highlight of the day will be a visit to Featherdale Wildlife Park, where we'll have the chance to get up close and personal with some of Australia's most iconic wildlife, including kangaroos, koalas, and wombats. You can hand-feed the animals and even snap a selfie with a cuddly koala (please note, in this part of Australia, humans are not allowed to hold koala's).
After a morning spent with the animals, you can explore the city at your own pace. Check out some of the events happening around town as part of the Sydney Mardi Gras celebration, or simply wander the streets and soak up the vibrant atmosphere. For those travelers interested, this is the heart of gay Australia and the most popular time of year for LGBTQ+ travelers to the city. We're happy to make recommendations for outings.
In the evening, why not join some of your fellow travelers and head to one of the many Sydney gay bars or restaurants in the city to continue the festivities? Whether you're in the mood for a fancy cocktail or a casual beer, there's sure to be a spot that fits the bill. Enjoy your day of leisure, and have a blast!
Sofitel Sydney
Sydney 
Experience a leisurely morning with a choice of fun-filled Pride activities or a relaxing day at the beach. As the evening approaches, we gear up for the highly anticipated 2024 Sydney Gay Mardi Gras Parade. We have exclusive access to the official Mardi Gras Viewing and entry to the Mardi Gras Official Party. Later, we'll transfer you to Darlinghurst to soak up the vibrant atmosphere and revel in the colorful festivities. A small shuttle bus will be available at a pre-meeting point near the parade to ensure your safe return to the hotel. Get ready to have a blast at the Sydney Gay and Lesbian Mardi Gras – one of the greatest parties in the world!
Sofitel Sydney
Sydney
Indulge in a relaxing day after the excitement of Mardi Gras. Soak up the sun at the beach, hop on a ferry to explore Sydney Harbour, or immerse yourself in the city's rich cultural offerings such as museums, theaters, and galleries.
In the afternoon, get ready to party one last time at the exclusive Mardi Gras Laneway Party from 2 pm until midnight, marking the official end of Mardi Gras. And, as a final celebration, we will gather for a farewell dinner to toast the unforgettable memories of this once-in-a-lifetime journey to Australia and Sydney Mardi Gras.
Sofitel Sydney
Departure Day
After a wonderful week of exploring the best of Australia and experiencing the vibrant energy of Sydney Mardi Gras, it's time to say farewell to this beautiful country. Take some time in the morning to reflect on all the amazing memories you've made before your private transfer arrives to take you to the Sydney International airport. Don't forget to pick up some last-minute souvenirs and gifts for friends and family back home. Board your onward flight feeling relaxed, refreshed, and with a heart full of unforgettable experiences. Optional extension to Cairns (Great Barrier Reef).
Post-trip: Discover the Great Barrier Reef
3-Night Extension at Shangri La Hotel – March 4-7, 2024
Priced per person $2,199 based on Double occupancy. Single Room $2,799
Highlights:
Enjoy a panoramic scenic drive
Visit World Heritage Daintree Rainforest
Full Day cruise to Outer Great Barrier Reef
Inclusions:
Daily Breakfast
2 Lunches, 2 Dinners
Guided Tours throughout
All Transfers
Deluxe Seaview Accommodations
Non Inclusions:
Flight to Cairns
Optional Excursions
Meals not mentioned in the itinerary
Personal Expenses
Gratuities
QT Melbourne
At QT Melbourne your scene is dressed in velvet detail, sultry soundscapes, and three courses for the five senses. This is luxury in a landscape of industrial chic, low light, and high fashion. From its famous rooftop bar to undiscovered laneways, QT Melbourne is a path that leads somewhere different every time. Located in the heart of Melbourne, this incredibly hip and fun hotel features a terrace and views of the city. The contemporary rooms are alive with edgy essence and punchy chic and include free WiFi, flat-screen TVs, a mini-bar, and a coffee machine. Guests also have access to a 24-hour gym.
Mantra Lorne
The only beachfront property in Lorne, Mantra Lorne offers wonderful accommodations in one of Australia's most sought-after destinations, the Great Ocean Road. Set in 12 acres of landscaped gardens including tennis courts and croquet lawns, Mantra Lorne is well-equipped to allow you to make the most of your stay. Take a dip in our indoor heated mineral pool or relax in one of our steam rooms at our fitness center. Indulge in our on-site restaurant offering rustic Italian cuisine. This resort is the only property in Lorne that has direct beach access. Blending modern style with rich history, our rooms offer beautiful garden or ocean views with a refrigerator, TV, tea maker, and coffee machine.
Sails in the Desert
Perfectly positioned to make the most of the Australian outback, Sails in the Desert beautifully contrasts Uluru's (Ayers Rock) raw natural beauty with a decidedly luxurious outback experience. Soaring white sails shade 228 lavishly appointed rooms. The hotel is only a 5-minute walk from the Uluru lookout and is a great spot to take in the desert sunrise or sunset. The property features an outdoor swimming pool, tennis court, and a relaxing day spa. Step into the intersection of modern comfort and traditional art and style in your rooms. With accents showcasing Indigenous styling in every room, you'll feel grounded in the history of Central Australia. The air-conditioned rooms have free WiFi, flat-screen TVs, a mini-bar, and tea and coffee-making facilities
Sofitel Sydney
Indulge in a world of relaxation, romance and waterfront sophistication in the heart of Darling Harbour, with Sydney's playground on your doorstep. It is close to Darling Harbour, a shopping area and nightlife options. Ferries from Darling Harbour take you under the iconic Sydney Harbour Bridge to Circular Quay and Sydney Opera House. The hotel's leisure facilities are second to none, with a stunning outdoor infinity pool, a state-of-the-art gym overlooking the city skyline, and four vibrant restaurants and bars. Enjoy breathtaking panoramic views of Darling Harbour with floor-to-ceiling windows from your contemporary room, a quiet cocoon above the vibrant city. The spacious rooms combine French chic with modern luxury. Pamper yourself with French bathroom amenities, free WiFi, TV, mini-bar, refrigerator, and coffee and tea-making facilities. Live the French way in Sydney.
The Source Small Group Experience
Explore Australia & Sydney Mardi Gras
Experience the vibrant energy of Melbourne and the exuberant celebration of the Sydney Mardi Gras with Source Journeys, your ultimate guide to luxurious small-group travel experiences. Join us as we journey to the heart of gay Australia, where we'll be immersed in one of the world's most iconic festivals in all its glory.
Our exclusive Australia small LGBTQ+ group tour is limited to only a few travelers, ensuring an intimate and authentic experience. We've curated the finest accommodations and local guides to provide the ultimate foundation for an unforgettable experience.
We have arranged VIP access to Sydney Gay and Lesbian Mardi Gras, as well as curated gourmet dining experiences throughout the itinerary. We're committed to accommodating any dietary requests in advance, so you can savor every moment of this once-in-a-lifetime journey.
With Source Journeys, you'll travel with the confidence and expertise of our founder and president, Craig Smith. He brings over 20 years of designing life-changing travel experiences for travelers to some of the world's most desired destinations. Join us for an adventure you'll never forget.
| Category | Double Occupancy | Single Occupancy | Availability | Book Now |
| --- | --- | --- | --- | --- |
| Deluxe Accommodations | $7,199 / person | $10,199 / person | Limited | BOOK NOW |
Deluxe Accommodations - Double Occupancy
$7,199 per person
Deluxe Accommodations - Single Occupancy
$10,199 per person
Included in this Journey
Deluxe Accommodations throughout
Daily Breakfast
All land transfers throughout the journey
Welcome dinner in Melbourne
Welcome dinner in Sydney
4 Lunches & 2 Dinners
All Excursions in the Program
Pride Sunset Cruise
VIP Tickets for Pride Parade
Fully escorted by Source Journeys
Not Included in this Journey
International Flights
Internal flights at $945 (Melbourne-Uluru-Sydney)
Upgraded Accommodations Request
Meals not mentioned in the itinerary
Excursions not mentioned in the itinerary
Optional Extension to Cairns (Great Barrier Reef)-March 4-7, 2024. Priced at $2,199 per person
Roundtrip flights to Cairns

Travel insurance – comprehensive travel insurance is highly recommended.  

Gratuities
Personal Expenses
Visas Expenses (if required)
Covid Tests expenses (If required)
Passports: Your valid passport should have at least two consecutive blank pages and should be valid for at least six months after your planned departure from the country you are visiting. Visas will be required for all passport holders. Arrival Airport: Melbourne (MEL). Departure Airport: Sydney (SYD)