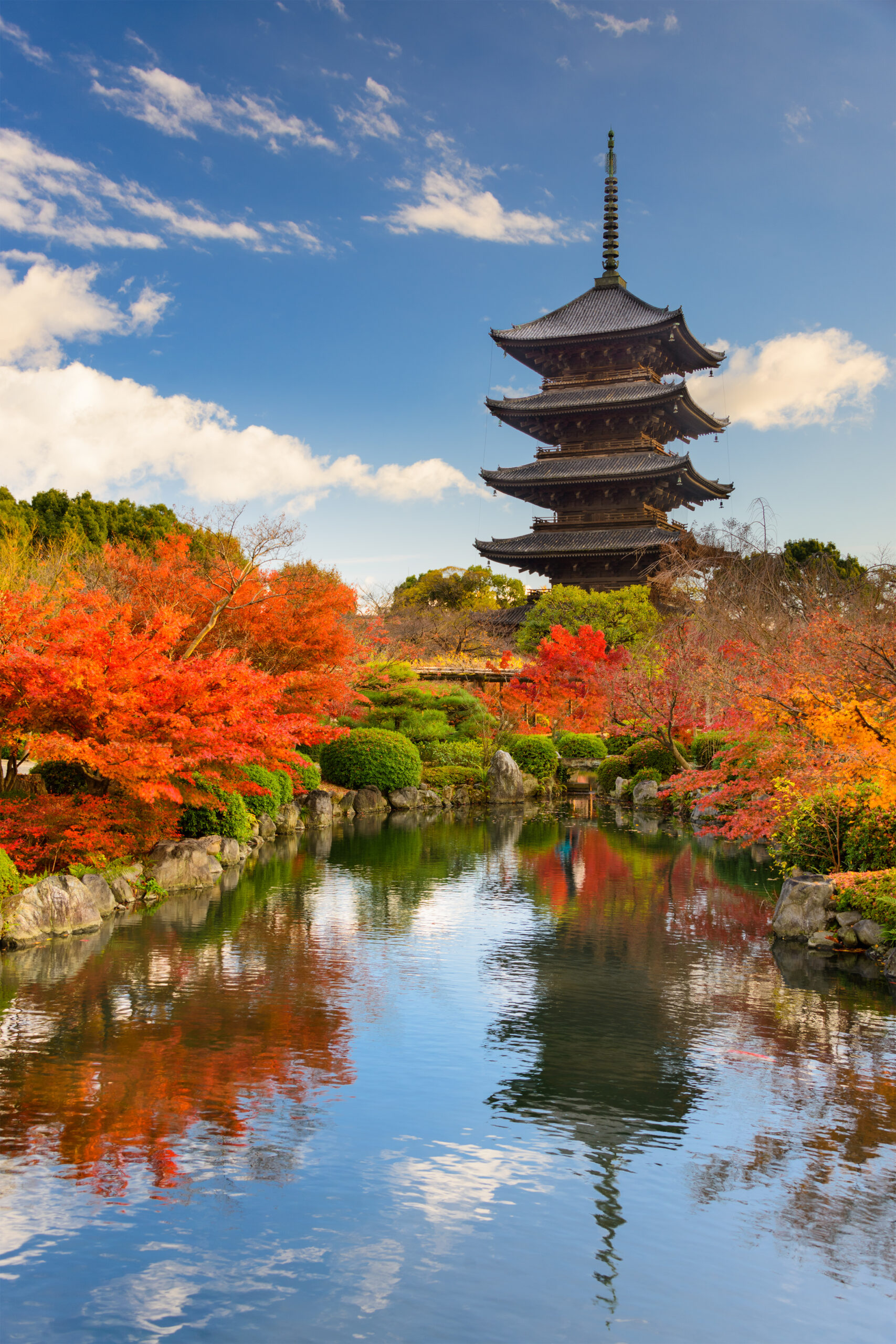 The Mystical & Modern Japan
October 23 – November 2, 2024
10 Nights/11 Days
from
$12,299 per person – LIMITED AVAILABILITY
An Immersive Experience of Tradition and Innovation in the Land of the Rising Sun
Welcome to the luxury journey of a lifetime with Source Journeys, where you'll discover the fascinating and diverse wonders of Japan. From the bustling neon skylines and high-speed bullet trains to the ancient castles and serene islands, Japan is a land of incredible contrasts that will take your breath away.
Our journey starts in Tokyo, the capital city known for its pioneering modernity and iconic landscapes of neon, towering skyscrapers, and peaceful parks, shrines, and temples. From there, we'll venture to Hakone, a nature wonderland famous for its hot springs, outdoor activities, and stunning views of the iconic Mount Fuji.
Next, we'll take one of Japan's famous bullet trains to Kyoto, the cultural center of Japan, where we'll immerse ourselves in the city's rich heritage by exploring its tea shops, shrines, temples, and the famed Arashiyama Bamboo Grove. Then, we'll take a ferry to tranquil Miyajima Island and see its photogenic red torii gate, a symbol of Japan's unique blend of nature and spirituality.
Finally, we'll visit Hiroshima, a city notorious for its destruction during the Second World War but now stands as a beacon of hope and peace for humanity. Experience the resilience and positivity of this remarkable city as we explore its museums, memorials, and other landmarks.
Join us on this luxury LGBTQ+ journey to Japan, where you'll witness the past, present, and future of a nation that never ceases to inspire and amaze.
JOURNEY HIGHLIGHTS:
Experience neon-lit Tokyo and feel the vitality of this buzzy world capital

Explore the serene parks, shrines, and temples that offer a peaceful respite from the city's hustle and bustle

Zoom by bullet train along the classic stretch past majestic Mount Fuji

Savor a food experience in the renowned Dotonbori District

Immerse yourself in the rich cultural heritage of Kyoto as you discover the art of the tea ceremony and take part in a special geisha dinner

Unwind in the natural wonderland of Hakone, famous for its rejuvenating hot springs and breathtaking views of Mount Fuji

Witness the vibrant colors of autumn during the fall foliage season, when Kyoto's temples and gardens are adorned in breathtaking hues

Explore the narrow streets of the Gion district, known for its preserved traditional architecture and geisha culture

Take a day trip to Nara, the ancient capital of Japan, known for its rich history and friendly deer that roam freely

Discover the tranquil beauty of the Isuien Garden and Kasuga Taisha Shrine, surrounded by nature and serene landscapes

Experience the resilience and hope of Hiroshima as you visit the Peace Memorial Park and Museum

Explore the UNESCO World Heritage-listed Todai-ji Temple, home to the Great Buddha statue

Take a ferry to Miyajima Island and marvel at the iconic red Torii gate, one of Japan's most photographed and sacred sites
Tokyo
We begin our Japanese sojourn with seamless and effortless transportation to the distinguished Mesm Tokyo, a hotel designed to broaden our perspective, refine our palate, and ignite our imagination. Perched in the lively waterside hub of Takeshiba, the hotel epitomizes the sophisticated fusion of history and modernity that is Tokyo. We will be immersed in the captivating arts, harmonious melodies, tantalizing aromas, and gastronomic delights that greet us the moment we enter. We invite you to indulge in a rejuvenating overnight stay at the hotel before embarking on our unforgettable journey.
Mesm Tokyo
Tokyo
We'll start at the revered Meiji Shrine, dedicated to Emperor Meiji, and continue to wander the grand tree-lined avenue of Omotesando shopping street. We'll take in breathtaking views from the Roppongi Hills Observation Deck, 238 meters above the city. After sharing a delicious lunch at a local restaurant, we'll immerse ourselves in the rich history and tradition of Tokyo's old town, Asakusa. Here, we'll visit the city's oldest temple, Sensoji, and explore the historic Nakamise shopping street. We'll then return to the hotel for a sumptuous dinner. Join us for an unforgettable journey through Tokyo's past and present.
Mesm Tokyo
Tokyo-Hakone
A day of sophistication and tranquility as we traverse the picturesque landscapes of Hakone. We'll begin with a delightful breakfast at the hotel, followed by checking out and having our belongings transported with the utmost care to our next destination. We will bask in the serenity of this charming town, including a glimpse of the majestic Mount Fuji and a visit to the historic Hakone Shrine, once a favored destination for the samurai. Indulge in a lavish meal at a local eatery and embark on a pirate boat to Togendai, taking in the breathtaking views of the caldera lake, Lake Ashi. At Owakudani, we will admire the geothermal landscape with its steam vents and effervescent pools. Experience a truly singular moment by savoring eggs boiled in the volcano's natural hot springs, believed to extend one's lifespan by seven years. After a day filled with discovery, we will retire to a Japanese ryokan for a peaceful overnight stay. Soothe your senses in the onsen, relish a delightful dinner, and immerse yourself in the serene surroundings of Hakone.
Hyatt Regency Hakone
Hakone-Kyoto
We set off on a scenic journey aboard the high-speed bullet train bound for Kyoto. Upon arrival, a gourmet lunch awaits us at a local restaurant before embarking on a tour of Sanjusangendo temple. Together, we will marvel at the 1001 statues of the goddess of mercy, Kannon, and the awe-inspiring central statue of the 1000-armed Kannon. Our journey continues as we share in a traditional Tea Ceremony, gaining insight into the history, meaning, and significance of Japanese tea and its connection to Zen Buddhism. Conclude the day in comfort as we retire to our hotel for a restful overnight stay in Kyoto.
The Matsui
Kyoto
Embark on a journey of cultural discovery as we venture to Nijo Castle. Together, we will marvel at the stunning gardens, iconic Momoyama architecture, and the famous "chirping" nightingale floors that have been preserved since 1603, when the castle was built by the founder of the Tokugawa Shogunate. Our journey continues as we board a private coach to Kinkakuji, also known as the Golden Pavilion, and delve into the story of this former retirement villa of a Shogun, now transformed into a glittering Buddhist temple covered in gold leaf. In the peaceful town of Arashiyama, we'll enjoy a special temple lunch and stroll through the famous bamboo groves. The grandeur of Tenryuji, one of Kyoto's five great Zen temples, will leave us in awe before we indulge in a scenic rickshaw ride back to our hotel. As the day comes to a close, we'll gather for a sumptuous feast at a local restaurant and be entertained by a talented young geisha and musical performer.
The Matsui
Kyoto-Nara-Kyoto
Enjoy a cultural adventure as we visit two iconic destinations, Fushimi Shrine, and Nara. Our first stop is the Fushimi Inari Shrine, famous for its thousands of vibrant red torii gates and one of Kyoto's most sought-after attractions. After basking in its awe-inspiring beauty, we will relish a scrumptious local lunch before heading to Nara to explore the magnificent Todaiji Temple. This grand temple houses the world's largest Buddha statue and is a must-visit for anyone traveling to Nara. To cap off the day, we will visit the Kasuga Taisha shrine, known for its hundreds of beautifully crafted bronze and stone lanterns donated by worshippers over the years.
The Matsui
Kyoto
Today, we will immerse ourselves in the refined beauty of Kyoto's rich culture and tradition. Our knowledgeable specialist will guide us through the sophisticated art of wearing a Kimono, revealing the intricacies of the fabrics, techniques, patterns, and masterful tailoring that make each piece a work of art. We will be adorned in a stunning Kimono, fully embracing the timeless charm of Japanese culture. Afterward, we will stroll through the bustling Nishiki Market, renowned as Kyoto's culinary hub, where we will savor the sights, sounds, and scents of this lively market renowned for its fresh seafood, premium Japanese knives, and top-quality cookware. Before retiring to our luxurious accommodations, we will enjoy a delectable lunch at a local restaurant, carefully curated for our enjoyment.
 The Matsui
Kyoto-Hiroshima
Time to take a step together toward peace and remembrance. We'll embark on an exclusive excursion via bullet train to Hiroshima, where we'll visit the iconic Peace Memorial Park, dedicated to those who lost their lives in the atomic bombing of 1945. We'll stroll through the park, visiting monuments and statues that pay tribute to the victims, and gain a deeper understanding of the tragedy at the Peace Memorial Museum. After a filling lunch at a local restaurant, we'll ascend the Orizuru Tower for breathtaking views of the city and its landmarks, and have the chance to make a paper crane and contribute to this symbol of peace. Our day will come to a close with a comfortable stay in Hiroshima, where we will continue to reflect and share in the importance of this experience.
Hilton Hiroshima
Hiroshima-Miyajima-Osaka
Experience the beauty and spiritual significance of Miyajima Island. Together, we will explore this sacred island known for its Shintoism and spiritual significance, dating back to ancient times. The centerpiece of the island is the iconic Floating Torii Gate of Itsukushima Shrine, recognized as one of Japan's three most beautiful views and a UNESCO World Heritage Site. Share in the island's rich history and spiritual heritage as we visit its many shrines and temples, and savor local delights like maple leaf-shaped cakes. With our private guide and coach, we'll return to the mainland by ferry and enjoy a delicious lunch en route to Osaka, where we'll check into our hotel for a comfortable overnight stay.
Conrad Osaka
Osaka
Now, we will Immerse ourselves in the rich history and vibrant culture of Osaka. We begin with a visit to the stunning Osaka Castle, a monument that symbolizes Japan's unification, where you will be amazed by its impressive architecture and gain insight into its rich history through museum exhibits. Together, we will indulge in a delectable lunch at a local restaurant before exploring the foodie's paradise of Dotonbori. As the day comes to a close, we'll raise a toast to the flavors of Osaka and the memories made on this exclusive excursion at a memorable farewell dinner.
Conrad Osaka
Osaka – 
Our tour may have come to its end, but the memories of our time in Japan will endure. We'll go to the airport, reflecting on the unique experiences we shared with our small, private group of Source Journeys Travelers. From the iconic landmarks to the local cuisine and traditional customs, we've discovered the beauty of Japan together and formed memories that will last a lifetime. As we board our flight, we'll take a newfound appreciation for this fascinating country and the bond we've created with our fellow travelers.
Mesm Tokyo
Located near the waterfront, Mesm Tokyo is an urban luxury hotel situated in the special ward of Minato City near Ginza. The hotel's name comes from the word "mesmerize." At Mesm Tokyo, all five senses come alive as guests are enchanted with sights and sounds, music and art, food and drink. Iconic design and authentic Japanese hospitality combine to make the hotel the ideal choice for travelers seeking innovation and creativity in Tokyo. Throughout the hotel, guests encounter leading Japanese brands, which emphasize the cutting-edge style and trends of our downtown environment. At the end of an exciting day in Tokyo, indulge in a true urban retreat in the luxurious guest rooms, featuring modern decor, in-room digital pianos, matcha tea, and stunning city views.
Hyatt Regency Hakone
Located in Gora, the Hyatt Regency Hakone Resort and Spa is the most luxurious hotel around Mt. Fuji, offering guests a spa and zen experience. The hotel is famous for being one of Japan's leading hot springs resorts. Based on the concept of "My home in Hakone", they provide warm and comfortable service that makes you feel right at home. Lit by mood lighting and offering panoramic windows, each spacious guest room has a sun terrace or balcony overlooking Hakone's natural beauty. The rooms also include a marble bath and mini-bar. Two large, indoor onsen (mineral hot springs) are available on-site, one for men and one for women. The source of the Owakudani Valley Hot Springs is located at the hotel, and as such, hotel guests can enjoy the healing and health-promoting properties of these hot springs and melt away their fatigue.
The Mitsui Kyoto
Modern, understated elegance and a rich history are meticulously combined at Hotel The Mitsui Kyoto, located in the heart of Kyoto. This luxury hotel harmonizes with nature, climate, and history while harnessing the guests' pleasures as our own. The hotel is built surrounding a central courtyard whose peaceful, weeping-cherry-tree-focused garden and shallow, still pond provides a natural and simple point that centers the grounds. From architecture and crafts to food and service, Kyoto culture and local customs shine through every detail of the hotel that infuses meticulous and inviting hospitality. The tranquility and storied history of the location are reflected in each of the guest rooms. A modern reimagining of the traditional Japanese tearoom, all guest rooms feature carefully chosen natural materials elevated using artisanal skills. The bathtubs are fashioned out of stone and their generous size makes them ideal for stretching out and relaxing. Guests can experience Kyoto's rich history and traditions while unwinding in luxurious surroundings – enjoying a uniquely modern take on the beauty of a Japanese room.
Hilton Hiroshima
The Hilton Hiroshima overlooks the vibrant cityscape of Hiroshima, with views of the Seto Inland Sea and beautiful mountains in the distance, allowing guests to experience the charm of Hiroshima in all seasons. Conveniently situated in the center of Hiroshima city, the hotel is within walking distance of the UNESCO World Heritage Site "Atomic Bomb Dome," and Peace Memorial Park. The guest rooms are located on the 7th through 22nd floors and have sweeping city views. The room décor pays homage to the culture and natural surroundings of the region, with blue accents that reflect the Seto Inland Sea, art featuring graphic designs of a Japanese maple tree, "Momiji," and amenities such as Bizen porcelain teacups that are inspired by the traditional craftsmanship of the region.
Conrad Osaka
Welcome to Conrad Osaka, your 'address in the sky.' Sweeping, kaleidoscopic views of Osaka's main commercial hub greet you upon entering the lobby of this sleek luxury hotel, adorned with its spectacle of twinkling lights and opulent décor. Situated on the highest floors of the Nakanoshima Festival West Tower building, the Conrad floats some 656 feet above the ground, offering an idyllic setting for sunset cocktails and friendly gatherings. With floor-to-ceiling windows lining every modern and spacious guest room of the hotel, you'll never miss a moment of the city's dazzling urban display. The hotel sits atop the Watanabebashi subway station, giving easy access to the city's cultural and culinary highlights. Centered between the bustling areas of Umeda, Osaka's chic and whirling business district, and Namba, an enticing playground for nightlife, you'll find it easy to adventure out before slipping quietly back to this serene sanctuary in the clouds.
| Category | Double Occupancy | Single Occupancy | Availability | Book Now |
| --- | --- | --- | --- | --- |
| Deluxe Accommodations | $12,299 / person | $17,299 / person | Limited | BOOK NOW |
Deluxe Accommodations - Double Occupancy
$12,299 per person
Deluxe Accommodations - Single Occupancy
$17,299 per person
Included in this Journey
All Luxury 5-Star Accommodations throughout
Daily Breakfast
Welcome Dinner in Tokyo
All land transfers throughout the journey
9 Lunches & 5 Dinners
Bullet Train Ride First class
Private Airport transfers
All Tours, as described in the program, with English-speaking guides
All admissions for the sightseeing stated in the program
Fully Escorted by Source Journeys
Not Included in this Journey
International and Domestic Flights
Visa Expenses (If required)
Meals and Beverages not mentioned in the itinerary
Covid test expenses (If needed)
Travel insurance – comprehensive travel insurance is recommended.  Medical insurance and emergency evacuation insurance are required
Gratuities ($350 per person pre-paid before the journey)
Personal Expenses
Optional activities or excursions not mentioned in the itinerary
Post Journey extension (If offered)
Passports: Your valid passport should have at least two consecutive blank pages and should be valid for at least six months after your planned departure from the country you are visiting. Visas may be required for some Non-US passport holders. A deposit of $1,000 per person is required to secure your spot. Arrival Airport: Narita (NRT) or Haneda (HND). Departure Airport: Osaka Kansai International Airport (KIX). We can assist with International flights upon request.