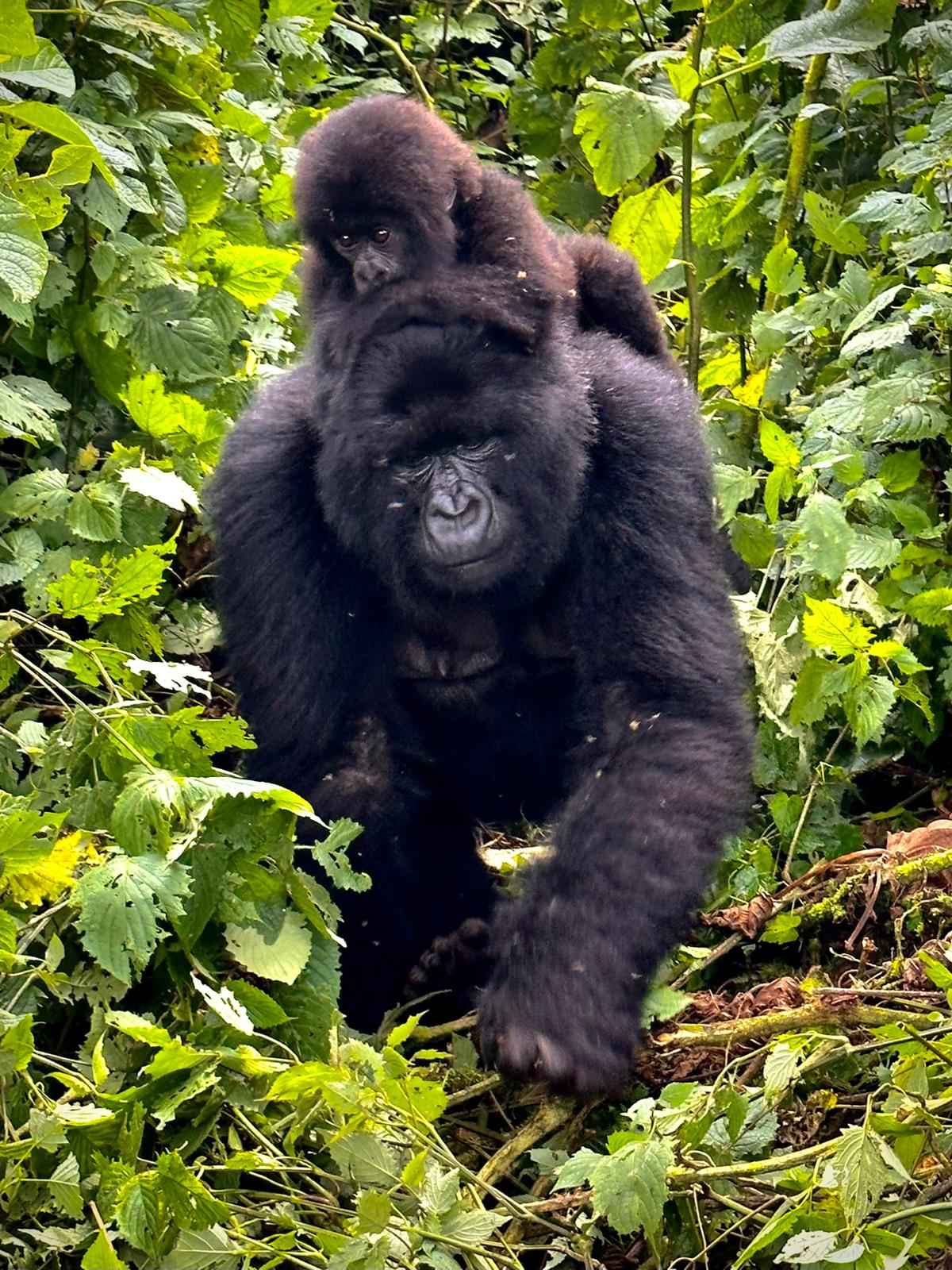 Luxury Safaris in Kenya & Gorilla Trekking in Rwanda
MAY 17-28, 2024
11 Nights/12 Days
from
$16,249 per person –

Wait List
An extraordinary journey to Kenya, Masai Mara & Rwanda
Source invites you to experience the Africa of your dreams. From the views of Mount Kenya to the wide grasslands of the Masai Mara, there is no place like Kenya for the classic safari. Explore the Mara, considered by many as the loveliest game reserve on the continent. You'll witness extraordinary wildlife sightings: prides of lion, solitary leopards, the shy black rhino, and abundant herds of elephant and buffalo are all to be found here. The richness of the Maasai people adds a layer of culture and diversity. Toast the sun as it drops behind the Rhift Valley while the Maasai warrior performs their customary dances in the traditional brush-packed half-moon boma. For an experience never to be forgotten, you can enjoy one of the iconic experiences of Africa, floating gently over the Masai Mara in a hot air balloon.
A gorilla trek is electrifying. Hiking through lushly sloping hills and spotting a mountain gorilla peeking out from the bush or happening upon a mother watching over her babies is a once-in-a-lifetime experience that changes you forever. Rwanda is the best place on earth to track gorillas, and Source has exclusive use of the award-winning Bisate Lodge in Volcanoes National Park. This 62-square-mile game park is home to the last surviving mountain gorillas as well as the endangered golden monkey.
JOURNEY HIGHLIGHTS:
Discover Africa's great game on exciting safaris, tracking the "Big Five"
2 nights of safaris in Kenya in Laikipia Plains overlooking Mount Kenya
4 nights of safaris at award-winning Angama Mara, located high above the Masai Mara.
Experience Hemingway-style adventure in camps that boldly reimagine the classic safari
Visit the Rwandan Genocide Memorial
Learn about the nomadic traditions of the indigenous Maasai people
Go on a bucket-list Gorilla Trek in Volcanoes National Park
See three primate species in Volcanoes National Park
Visit the Karen Blixen House (Out of Africa) in Nairobi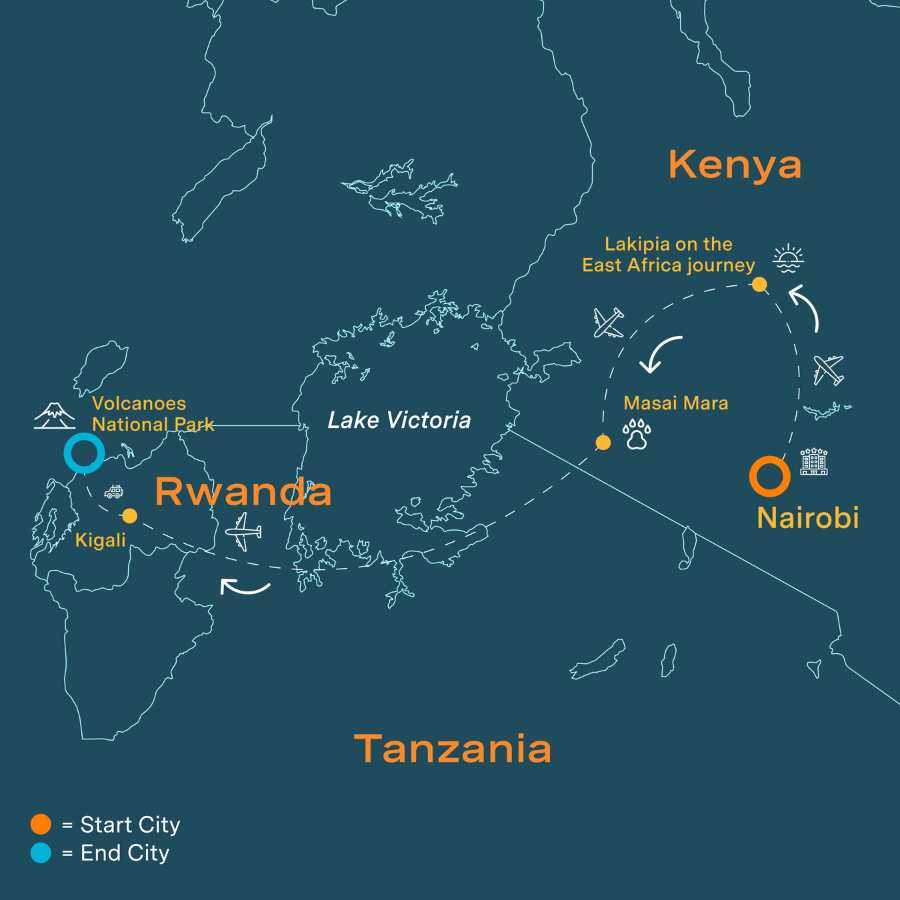 Nairobi
You'll be greeted upon arrival and have a private transfer to Hemingway House, a luxury boutique hotel situated in the quiet, leafy residential suburb of Karen, with views of the Ngong Hills. It's the perfect and indulgent stopover before going on safaris.
Hemingway House Hotel
Nairobi
After lunch, discover two of Nairobi's most loved attractions on this delightful tour. Visit the Karen Blixen Museum for a glimpse into the fascinating world of this pioneer coffee farmer, who achieved world fame through her highly acclaimed memoir, "Out of Africa". She left Africa after a series of personal tragedies and her lovely colonial house has been preserved as a museum.
Your next stop will take you to the renowned Giraffe Centre, where you will be given a rare opportunity to get up close to these gentle giants in this natural sanctuary, which was founded by Jock Leslie-Melville, the Kenyan grandson of a Scottish earl, to protect the endangered Rothschild giraffe. Here you can climb to the top of a platform and stand eye to eye with the giraffes, feed them small pellets or go for a gentle meander on a serene forest trail.
This evening enjoy a Welcome Dinner at Hemingway House
Hemingway House Hotel
Laikipia Plains
After breakfast, take a charter flight to Laikipia and transfer to Loisaba Lodo Springs Tented Camp, a luxury camp offering abundant wildlife and sweeping views. Go on an afternoon game drive and enjoy sundowners with views of Mount Kenya. There are only 8 tented guest rooms
Lodo Springs Tented Camp
Laikipia Plains
You can swap a safari game drive for other activities such as horseback riding, camel trekking, guided bush walks, and even mountain biking. Every moment at Losoiba is unforgettable.
Lodo Springs Tented Camp
Masai Mara
After breakfast, fly to the Masai Mara and transfer to Angama Mara. Welcome to Angama, inspired by the Swahili word for 'suspended in mid-air. Located high above the floor of Africa's Great Rift Valley, Angama Mara's elegant tented suites have been designed to make the most of the extraordinary views of the Masai Mara from every corner.  Here you'll find a lodge where everything is as it ought to be with tailor-made safari days and a famously warm Kenyan welcome. Dream of Africa and chances are that you dream of the Masai Mara. After lunch, go on an afternoon safari game drive.
Angama Mara
Masai Mara
A gentle early morning wake up to a cappuccino and freshly baked Masai honey biscuits placed discreetly by your butler in the lobby of your tent. Descend down Angama Mara's private road in the heart of the action. As the sun breaks the horizon, you will be surrounded by more animals than you can imagine. The Masai Mara never fails to deliver extraordinary wildlife sightings; pride of lion, solitary elephants, the shy black rhino, and abundant herds of elephant and buffalo are all to be found here in and amongst bountiful plains game. In addition to morning and afternoon safaris, there are options to choose from.
Angama Mara
Masai Mara
Enjoy a picnic somewhere in the middle of nowhere in the vast grasslands of the Mara Triangle, perhaps under a lone desert date tree with only elephants as a company. In the afternoon, wander through the Shamba (kitchen garden) picking and tasting the leaves and fruits along the way. Relax with some chilled rose wine under the giant moth trees. You can also burn energy in the Fitness Room; swim lengths in the pool; indulge in a full body massage on the deck, or just embark on a red-rocking chair safari.
Angama Mara
Masai Mara
At Angama Mara, you have many choices of how to spend your day. Sunrise hot-air balloon safaris, photographing Africa's abundant wildlife, and walking on the edge of the Great Rift Valley are just some of the options available.  As a nod to the romantic tale that was filmed on the very same site as the lodge is located, intimate picnics are offered on the crest of the Out of Africa kopje that is featured on the movie's poster. At sunset, follow the sound of the rhythmic chanting of the Massai warriors to the sundowner boma, where a cocktail, delicious bitings, and a sunset performance awaits
Angama Mara
Nairobi to Kigali, Rwanda
After breakfast, fly on a private charter flight to Nairobi to connect with your international flight to Kigali. Vibrant and colorful, Kigali is the bustling capital city of Rwanda. It spreads out over four scenic ridges and the valleys in between, with the city center located on one hill, and the government and administrative quarter on another.   Transfer to Kigali Marriot Hotel and overnight.
Marriott Kigali Hotel
Volcanoes National Park
Kigali continues to work towards overcoming its turbulent past. Many churches have been converted to places paying respect to those who died in the 1994 genocide. Visit the extensive, world-renowned Kigali Genocide Memorial. Transfer to Bisate Lodge adjacent to the Volcanoes National Park. Bisate combines the bucket-list gorilla trek with a pioneering vision of reforestation and community partnership. This is an award-winning eco-chic rainforest lodge nested in a mesmerizing volcanic landscape
Bisate Lodge
Volcanoes National Park
A trek to visit the magnificent mountain gorillas is an extraordinary, life-changing experience. Savor every second as you watch them foraging, playing, teasing each other, eating, or slumbering in an uncanny resemblance to ourselves. The gorillas reside where there is an abundance of food plants near the ground and think nothing of climbing lofty hills to get to them. Explore this scenic land cape where Dian Fossey carried out her ground-breaking gorilla research. We'll take the time to visit the local community and engage in the culture in the area, visiting a coffee plantation.
Bisate Lodge
Volcanoes National Park to Kigali for International Flights
When not trekking for gorillas, spend a morning search the lush vegetation at the foot of Mount Sabyinyo for one of the two habituated groups of golden monkeys, one of them a troop of more than 80. After a delicious breakfast, you will be road transferred back to Kigali Airport for your outbound flight.
Hemingway House Nairobi
This 45-suite luxury boutique hotel offers a luxury experience from the moment you touchdown in Kenya. Beautiful in its symmetry and flooded with natural light, this plantation-style property is airy and spacious.  Each of the spacious suites has a private balcony overlooking the iconic silhouette of the Ngong Hills.
Elewana Lodo Springs Tented Camp
Lobo Springs Camp, a part of the Elewana Collection, is located within the private Loisaba Conservancy. The conservancy sits on a vital Elephant Corridor connecting the famous Laikipia Plateau and plays a key role in supporting one of Kenya's largest and most stable lion populations. It is also home to several critically endangered large mammals, including Grevy's zebra, wild dog, leopard, and cheetah.
The camp offers an ultra-private experience with 8 individual, spacious tented rooms with impressive views that reach across the magical landscape of northern Kenya stretching out to Mount Kenya. Service is paramount, with each room assigned a Guest Ambassador to serve and cater to your every need.
Angama Mara
Welcome to Angama, inspired by the Swahili word for 'suspended in mid-air. Located high above the floor of Africa's Great Rift Valley, Angama Mara is a remarkable owner-run lodge overlooking one of the world's natural wonders. Perched right on the edge of the escarpment, each of Angama Mara's luxurious 100-square meter Tented Suites has floor-to-ceiling glass spanning all along the front to make the most of the dramatic views.
The interiors are uncluttered, classic and above all, comfortable with splashes of Massai Red, French Khaki, copper, and brass. Home to all of Africa's great mammals year-round and more than 450 bird species, the Massai Mara is Africa's most iconic reserve. Days are as action-packed or as gentle as you prefer. In addition to game drives, you can experience hot air ballooning, walking safaris, and cultural visits to neighboring Maasai villages.
Angama Mara has won numerous awards each year, being recognized as the #1 Safari Resort in Africa in 2019 by Readers of Conde Nast Traveler, Fodor's Finest Hotels in the World in 2020, and Travel & Leisure Hot List in 2021.
Bisate Lodge
Wilderness Safaris Bisate Lodge is Rwanda's first genuinely luxurious and eco-sensitive safari lodge, winning numerous prestigious travel awards including World's Top Ten Safari Lodge in 2020 from Travel + Leisure. Built adjacent to Volcanoes National Park, Bisate combines the bucket-list gorilla trek with a pioneering vision of reforestation and community partnership. Bisate is located in the natural amphitheater of an eroded volcanic cone, with dramatic views.  Six opulent en-suite Fores Villas, provide spectacular views. Bisate is within easy driving distance of the Park Headquarters, from which gorilla treks depart. Walks on Bisate's property offer birding and participation in the reforestation program.
The Source Small Group Experience
Explore Kenya & Rwanda with LGBTQ+ Travelers on a Source Small-Group Luxury African Journey
For the 3rd year in a row, this extremely popular journey sells out quickly. Join this signature Source African Safari where nature reigns supreme. Our Source small group experiences can take you anywhere you want to go in the world in a luxurious style backed by a comprehensive network of travel experts.
A taste of what to expect. This authentic luxury tour in Kenya and Rwanda is limited to 12 travelers. Source has curated this African experience, to include award-winning lodges in Kenya & Rwanda, where travelers will have the finest accommodations and guides. In Rwanda, Source has taken over the entire 6-villa Bistate Lodge near Volcanoes National Park to ensure an exclusive experience. These all-inclusive luxury lodges include all meals, drinks, activities, and even laundry. Dietary requests made in advance can always be accommodated.
Craig Smith, Founder & President of Source, has been traveling to Africa and escorting hundreds of travelers since 2001, and will be leading this signature Source journey. When you travel with Source, you can count on an experience where every day is an inspiring adventure.
| Category | Double Occupancy | Single Occupancy | Availability | Book Now |
| --- | --- | --- | --- | --- |
| Deluxe Accommodations | $16,249 / person | $26,199 / person | Wait List | BOOK NOW |
Deluxe Accommodations - Double Occupancy
$16,249 per person
Deluxe Accommodations - Single Occupancy
$26,199 per person
Included in this Journey
Welcome Dinner in Nairobi
Daily Breakfast
Tours in Nairobi
All land transfers throughout the journey
All Luxury Accommodations throughout 
All Safari Games drives and Wildlife activities
All meals at Safari Game Lodges and Bisate Lodge
Spirits, wine, and non-alcoholic drinks at the Safari Game Lodges & Bisate
Tour of Kigali and Genocide Museum
All Wildlife Preservation Fees in Kenya & Rwanda
Laundry service at all safari game lodges in Kenya and Bisate in Rwanda
Not Included in this Journey
International flights to Africa
Domestic Private Charter Flights within Africa ($1689)
Covid Testing (Rwanda requires it at the present time)
Gorilla Permit in Rwanda ($1500)
Golden monkey trek – Permits are $100 per person per trek.
Travel insurance – comprehensive travel insurance is recommended.  Medical insurance and emergency evacuation insurance are required.
Gratuities
Personal Expenses
Visa Expenses
Optional activities such as a hot air balloon over Masai Mara
Passports: Your valid passport should have at least two consecutive blank pages and should be valid for at least six months after your planned departure from the country you are visiting. Visas will be required for all passport holders. Arrival Airport: Nairobi (NBO). Departure Airport: Kigali (KGL). We can asssist with International flights.