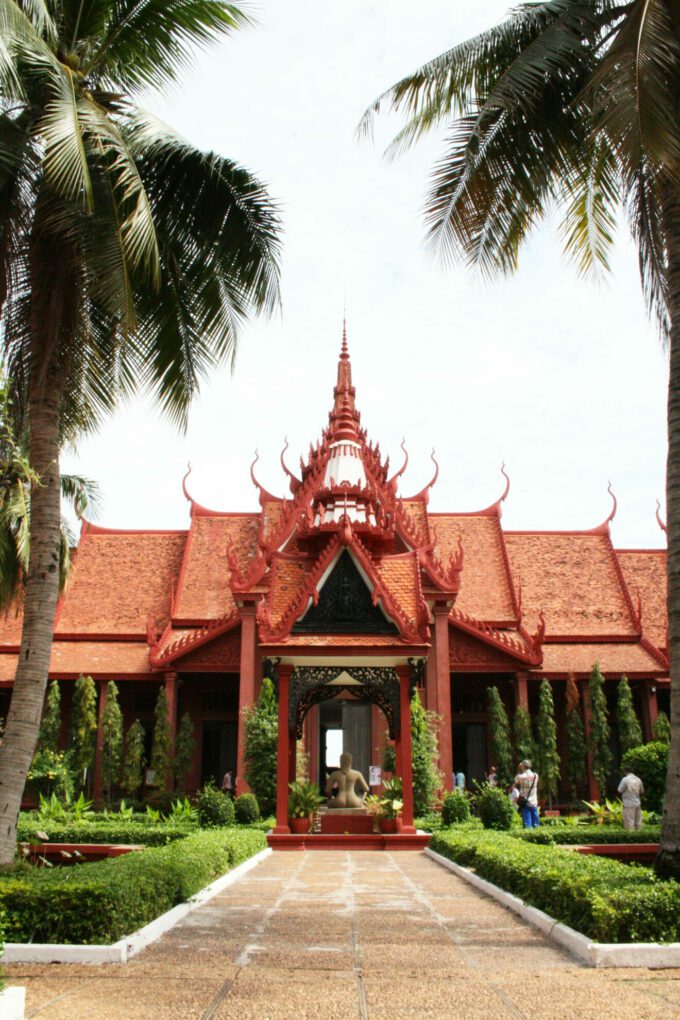 Mekong River Cruise – Ho Chi Minh City to Siem Reap
October 17-29, 2023
12 Nights / 13 Days
from
$6,699 per person – Limited availability
Join Source Journeys for our small, luxury all-gay group tour through Vietnam and Cambodia. From its peak high up in the Tibetan Plateau, the powerful Mekong River courses 3,000 miles through Asia. We will become immersed exploring ancient traditions as we embark on an unforgettable journey through Southeast Asia. Ho Chi Minh City offers a mixture of old and new, while the Mekong teems with colorful floating markets, ancient pagodas, rain forests, and mementos of its French Colonial past. Along the way, we will learn more about the culture of each country, marvel at the spectacular scenery, and interact with local people. In colorful Siem Reap, we'll explore the vast UNESCO-designated jungle temple complex of Angkor Wat, one of the most famous and recognizable monuments in the world.
JOURNEY HIGHLIGHTS:
Full Charter of the R/V Mekong Princess
Experience the delicate flavor profiles of Vietnamese gastronomy.


Explore the bright lights and chaotic buzz of Saigon during an evening Vespa tour. 

Visit Angkor Wat is one of the seven new wonders of the world.

Sunrise Visit over the ruins of the ancient Angkor Wat




Float through

Cai Rang floating market,

 a traditional Southeast Asian floating village. 



Explore a Vietnamese handicraft village and learn how traditional crafts are created by locals.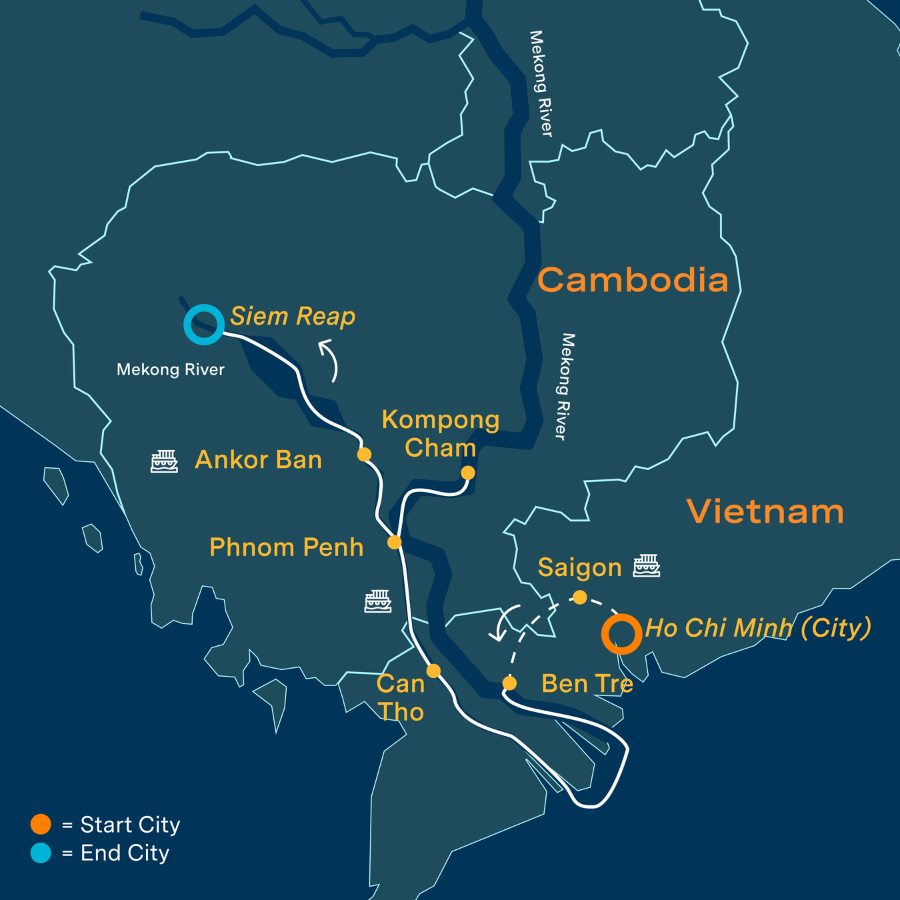 Ho Chi Minh City
Arrive in Saigon, transfer to Park Hyatt Saigon Hotel.
Park Hyatt Saigon Hotel
Ho Chi Minh City
After breakfast, we start with a private small group guided tour of the city which was built by the French in 1850. We visit the Central Post Office and along the way we will also view the Saigon Opera House, constructed by the French in 1898. We visit Independence Palace, also known as Reunification Palace, which was designed by the architect Ngo Viet Thu. The palace was the home and former workplace of the president of South Vietnam during the Vietnam War. We also visit the War Remnants Museum which primarily contains exhibits relating to the Vietnam War. Next, we learn how to make a traditional Vietnamese dish in a cooking class followed by lunch. This evening we will all enjoy a welcome dinner at a local restaurant.
Park Hyatt Saigon Hotel
Saigon/Embark Mekong Princess
We make our way to Saigon Port and embark on the R/V Mekong Princess by noon and begin the journey up the Mekong. Lunch is served during the breathtaking sail out of Saigon. After enjoying time to settle into our suites and explore our Mekong River home, we will host a welcome reception and Vietnamese welcome dinner.
Mekong Princess
Ben Tre/Tien Loi Island
Today, we will witness the hustle and bustle of delta river life as the local traders take their produce to market. After breakfast, we board the classically built sampans to explore the narrow canals and backwaters of this famed region.
Cruising amidst the mangroves and Nipah Palm plantations, we will disembark to visit the handcrafted coconut candy-makers. This is a famous cottage industry and a local delicacy enjoyed throughout Vietnam and Southeast Asia.
Upon the ship's arrival in Ben Tre, we meet our guide and sampan driver, and we head to Tien Loi island. Tien Loi island is untouched by tourist activity. You will be amazed by an honest welcome from rustic locals.
We arrive at Tien Loi island, just a few steps from the pier, where we will see a big fish pond fed by a local family for selling. Then we will take a short walk to a local family and learn how to manually weave mat and make chicken coops. We will take a seat chatting with the host and enjoy tropical fruits with tea.
We are just a few minutes walk to another family making hats & baskets from sedge. Here, we will have a chance to buy their products at wholesale rates. Then, we walk to the pier for our sampan, driving through a channel to the ship.
Mekong Princess
Can Tho/Hoa An Village
Our sampans return early this morning before breakfast for a cruise through the fascinating Cai Rang floating market near Can Tho. The sampan will weave in and out of the many boats that sail into the market each morning to sell produce and other items the residents of the Mekong Delta need in their daily lives. As they weave through the market, we will have many opportunities for amazing photographs, while enjoying fresh fruit and the Vietnamese "anti-aging drink," fresh coconut water. After the market visit, we will have a stop at a local factory to see the amazing process of making instant noodles.
This afternoon, sampans will take us to visit Hoa An village. Hoa An village is untouched and well known for flower growing and handmade crafts. Starting with a visit to flower gardens, where we will see many different kinds of flowers, especially tropical ones, and know-how to grow and take care of flowers. We will then take a short walk to a local house, with an opportunity to meet the family and discuss their lifestyle. After a short break, we continue our excursion on a "Xe Loi" (motor cart) to another village. Next, we will enjoy a walk in the peaceful village with rice fields, and fruit trees. Before returning to the sampans, we stop by the conical hat-making and mat weaving families, with an opportunity to chat with local family members and learn how to create products through hands-on experience.
Mekong Princess
Gieng Island
This morning, our sampans return to take us to Gieng Island. After a short walk around visiting a local sampan village, where hundreds of sampans are produced daily by local families, we will take a canal drive to explore the untouched floating area with duck farms, monkey bridges, and tropical orchards along the riverside. We will try one of the most popular local transportation named "xe loi" (motor trishaw) driving through this island to visit a Catholic Church, which was built as old as the Notre Dame Cathedral in Saigon in the 1870s.
Mekong Princess
Hong Ngu/Border Crossing
Our final Vietnam excursion takes us to the local island village of Hong Ngu, not far from the Vietnam-Cambodia border. Hong Ngu produces a large number of the traditional Khmer scarves exported to Cambodia. Woven in many homes around the village, we will have the opportunity to see the weaving process in several homes. Some villagers are also embroidery artists, displaying their art in and around their homes. The inhabitants of this area had only encountered one western visitor prior to the arrival of the Mekong Princess, and they are especially friendly and welcoming. We will also visit the local temple dedicated to a unique religion founded in this area of Vietnam, Hoa Hoa. This afternoon, the Mekong Princess will cross the border into Cambodia and continue up the Mekong River.
Mekong Princess
Phnom Penh
After breakfast this morning, local cyclo drivers will meet us for an exciting city tour of Phnom Penh. We begin our ride along the riverfront to the Royal Palace, where a leisurely walk takes us through the grounds, with opportunities to visit the Throne Hall and Moonlight Pavilion. Upon crossing into the second section of the complex, we walk amongst enormous stupas and spirit houses, on the way to the famous Silver Pagoda, home of Cambodia's Emerald Buddha and Maitreya Buddha, encrusted with more than 9,000 diamonds.
Following a short break, our cyclos take us to the National Museum. Housing the largest pre- Angkorian and Angkorian holdings in Cambodia, The National Museum ends the morning tour with a comprehensive look at many of the artifacts excavated around the Angkor Archeological Area in Siem Reap, as well as other areas around the former Khmer Empire. After a return cyclo ride to the ship, you may wish to take some time to have lunch at a local restaurant with your fellow travelers, walk along the quay, or visit some of Phnom Penh's famous markets and lovely boutiques.
Mekong Princess
Angkor Ban
Today we will visit the charming town of Angkor Ban. Here, we will get a glimpse into the lives of the local people, starting with a visit to a family's home to see how the locals live, along with an opportunity to meet the family and discuss their lifestyle. Next, we will continue through the village to the local school, where we will join the children in their classroom and experience what their typical school day is like. We will then walk back through the village to the ship, with an opportunity to take photos along the way, including a brief stop at the local monastery complex.
Mekong Princess
Kampong Cham/Siem Reap
Following breakfast this morning, we will say goodbye to the Mekong Princess and her crew. Transfer from Mekong Princess Cruise to Siem Reap, overnight for 3 nights at the Shinta Mani Angkor. Have lunch at your leisure at the hotel or in town. Take a Tuk-Tuk orientation tour of Siem Reap.
Shinta Mani Angkor Hotel
Siem Reap
This morning, we will visit Angkor Wat, the largest temple in the world, with a volume of stone equaling that of the Cheops pyramid in Egypt. It is unlike all the other Khmer temples in that it faces west, and is inspired by 12th Century Hinduism. Its symmetrical towers are stylized on the modern Cambodian flag. Conceived by Suryavarman II, Angkor Wat took an estimated 30 years to build. It is generally believed to have been a funeral temple for the king. It has been occupied continuously by Buddhist monks and is well preserved. Intricate bas-reliefs surround Angkor Wat on four sides. Each tells a story. The most celebrated of these is the Churning of the Ocean of Milk, which is located on the east wing. After that, we will continue our exploration of Temples at Ta Prohm, the temple that has been left largely in its natural state since its "re-discovery" by French explorers. Surrounded by jungle, its stone hallways are overgrown with the roots and limbs of massive banyan trees, which envelop the stone like tentacles.
Shinta Mani Angkor Hotel
Siem Reap
Depart the hotel and enjoy a once-in-a-lifetime experience of the sunrise overlooking the temples of Angkor, followed by a gourmet picnic breakfast and a traditional Khmer gondola ride. After a short drive to Bakheng Hill, a steep path leads to the summit, and stairs take us to the temple. From the temple, we can watch the sky lighten as the sun rises, with the towers of Angkor Wat visible in the distance. Following a walk back down the hill, we will enjoy breakfast at the Angkor Café, with the gates of Angkor Wat as our view.
After breakfast, we transfer to the South Gate of Angkor Thom and join a morning gondola ride along with the ancient ruins on a small baray (a reservoir typical of ancient Khmer water management). We will stop to visit a small cave and have a short trek up to the historical ruins of Prasart Chrung, where we may stand on the wall to view the amazing landscape out to the plains.
We will visit the monumental magnificence of Angkor Thom – the last capital of the Khmers, with its Elephant Terrace, the Terrace of the Leper King, and the stunning Bayon temple. This 12th-century masterpiece lies at the center of Angkor Thom and is an archaeological wonder of symmetry and grandeur. The exterior gallery walls have extensive bas-reliefs, but the highlight is the "faces," more than 200 of them, silent but with the famous half-smile playing on their lips. 
Shinta Mani Angkor Hotel
Pre-trip: Hanoi & Halong Bay
You've come this far, why not come early?
Delve deeper into Vietnam's fascinating history and breathtaking beauty with a two-night stay in Hanoi at the iconic Sofitel Legend Metropole Hanoi Hotel and an overnight cruise aboard a 5-Star luxury "junk" boat exploring the UNESCO World Heritage Site of Ha Long Bay, one of the world's greatest natural wonders. We also include a city tour of Hanoi, with a visit to the Ho Chi Minh Mausoleum, Temple of Literature, Hoan Kiem Lake, a Water Puppet Show, and the fascinating network of alleyways and shophouses in the Old Quarter.
3 Nights/4 Days – October 14-17, 2023
Inclusions:
2 Nights Sofitel Legend Metropole Hotel
1 Night Paradise Elegance Cruise Halong Bay
Daily Breakfast, Lunch & Dinner
Private Airport Transfers
All Tours in Itinerary
Flight from Hanoi to Saigon
Price: $2,299 per person based on Double Occupancy; $3,499 for Single Occupancy
Park Hyatt Saigon Hotel
Enjoy sophisticated urban luxury at Park Hyatt Saigon. Their world-class restaurants and tranquil spa in Ho Chi Minh City provide everything a traveler could need. Park Hyatt Saigon looks forward to welcoming our guests with warmth and hospitality for the ultimate personalized luxury experience.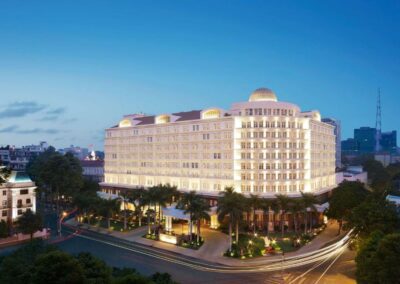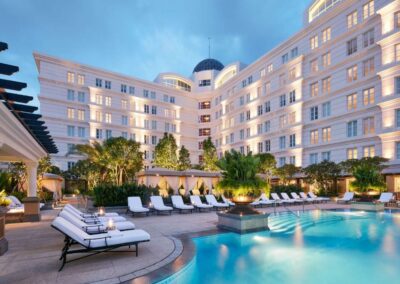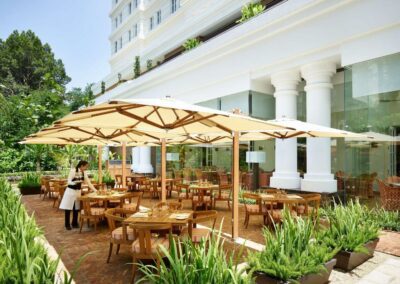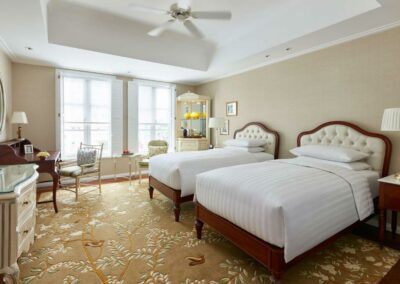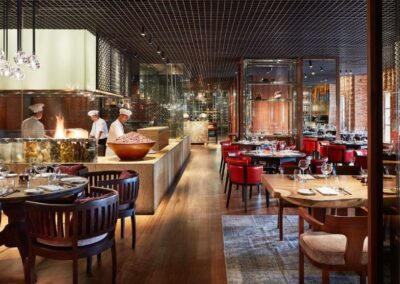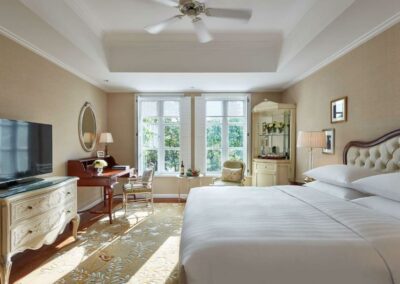 Shinta Mani Angkor & Bensley Collection Pool Villas Hotel
Experience the opulence of Shinta Mani Angkor & Bensley Collection Pool Villas, an exclusive retreat crafted by the renowned architect Bill Bensley. Nestled in the tranquil and lush Siem Reap French Quarter, the hotel offers 115 exquisite rooms. For an indulgent and private getaway, choose one of the 10 Bensley Collection Pool Villas. Our hotel extends a warm welcome to pets, the LGBTQ+ community, and individuals with disabilities. Additionally, relish in our delectable vegan and vegetarian menus during your stay.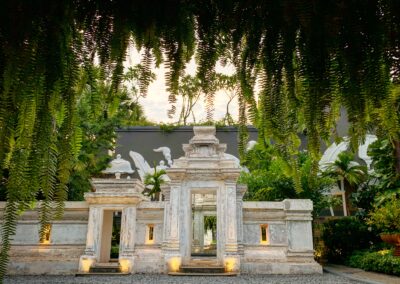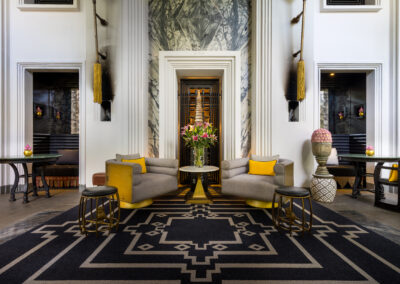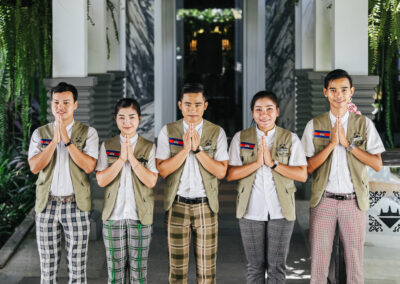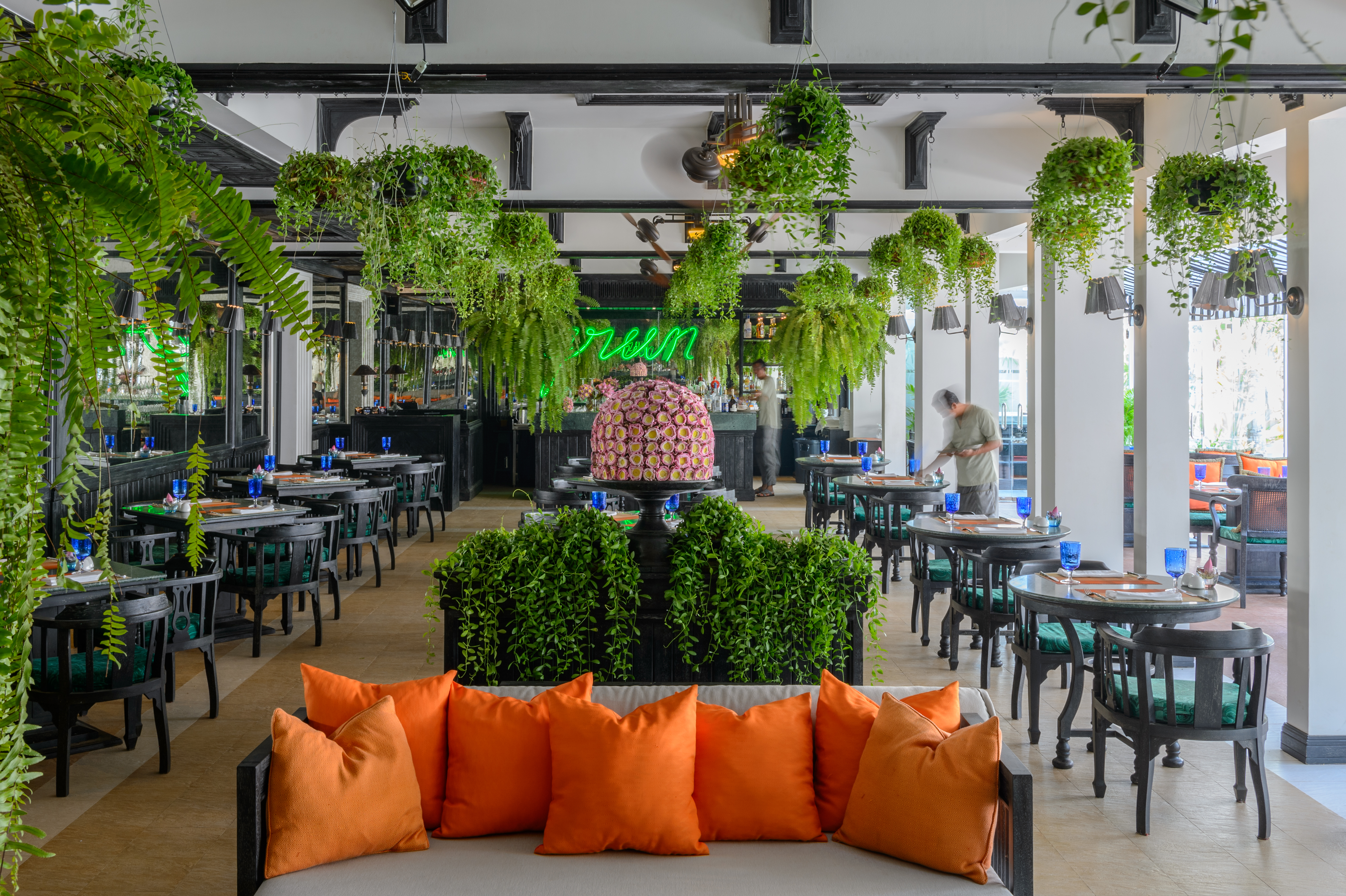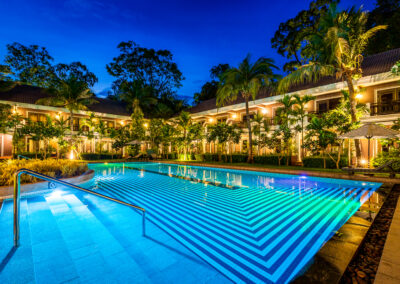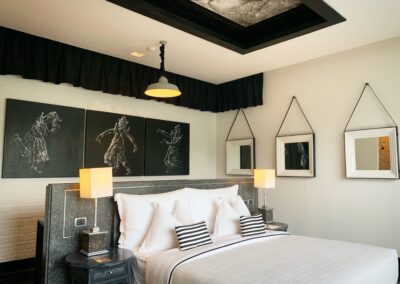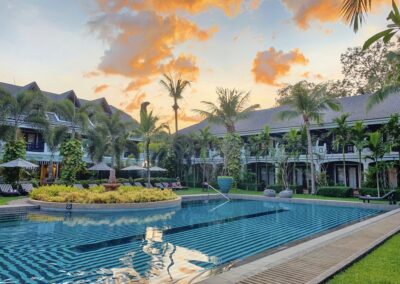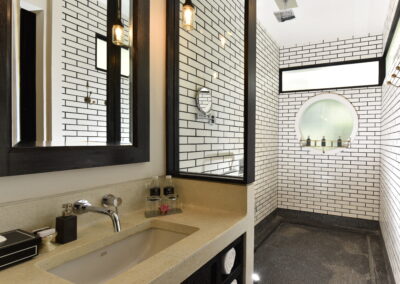 The Mekong Princess is a luxurious, all-suite boutique riverboat. The advantage of the Mekong Princess is that this small river boat is able to access lesser-known ports, ushering you into the midst of authentic rural cultures accessible by larger ships. The finest ship of her kind sailing the Mekong River, with luxurious furnishings and only 14 elegant suites that combine French-colonial elegance with the tranquility and comfort of an exclusive spa. The Mekong Princess will rival the finest luxury hotels. 
Best of all, the Mekong Princess will be our ship for the week.
Size: 560 sq. ft. King Bed. Private Verandah. Upper Deck
Size: 323 sq. ft. King Bed. French Balcony. Upper Deck
Size: 256 sq. ft. Queen/Twin Bed. French Balcony. Upper Deck
Size: 256 sq. ft. Queen/Twin Bed. French Balcony. Lower Deck
Size: 216 sq. ft. Twin Beds. French Balcony. Lower Deck


| Category | Double Occupancy | Single Occupancy | Availability | Book Now |
| --- | --- | --- | --- | --- |
| Angkor Suites - Upper Deck | $8,699.00 / person | $15,659.00 | Sold Out | BOOK NOW |
| Tonle Suites - Upper Deck | $7,899.00 / person | $14,249.00 | Sold Out | BOOK NOW |
| Apsara Suites - Upper Deck | $7,199.00 / person | $12,959.00 | Sold Out | BOOK NOW |
| Saigon Suites - Main Deck | $6,899.00 / person | $12,449.00 | Limited | BOOK NOW |
| Junior Suites - Main Deck | $6,699.00 / person | $12,149.00 | Sold Out | CALL NOW! |
Angkor Suites - Upper Deck - Double Occupancy
$8,699 per person
Angkor Suites - Upper Deck - Single Occupancy
$15,659 per person
Tonle Suites - Upper Deck - Double Occupancy
$7,899 per person
Tonle Suites - Upper Deck - Single Occupancy
$14,249 per person
Apsara Suites - Upper Deck - Double Occupancy
$7,199 per person
Apsara Suites - Upper Deck - Single Occupancy
$12,959 per person
Saigon Suites - Main Deck - Double Occupancy
$6,899 per person
Saigon Suites - Main Deck - Single Occupancy
$12,449 per person
Junior Suites - Main Deck - Double Occupancy
$6,699 per person
Junior Suites - Main Deck - Single Occupancy
$12,149 per person
Included in this Journey
5-star accommodations throughout
Daily Breakfast
Welcome Dinner in Ho Chin Minh
All meals aboard the Mekong Princess
Private airport transfers
All tours as described in the program with a private English-speaking guide throughout the entire trip
All admissions for the sightseeing stated in the program
Portage at airports and hotels
Fully escorted by Source Journeys
Not Included in this Journey
Meals not mentioned in the itinerary
Port Fees & Taxes of $249
Personal Expenses
International & Domestic Flights
Optional Excursions not mentioned in the program
Gratuities for guides, drivers, and crew of the Mekong Princess
Entry visa for Vietnam & Cambodia
Extension to Hanoi & Halong Bay
Covid-19 Test Expense
Travel insurance – highly recommended
Passports: Your valid passport should have at least two consecutive blank pages and be good for at least six months after your planned departure from the country you are visiting. An entry visa will be required for Vietnam and Cambodia. Arrival Airport Saigon (SGN) and Departure Airpot Siem Reap (REP). If you opt for the pre-trip extension. The arrival airport is Hanoi (HAN). We can assist with International flights upon request.