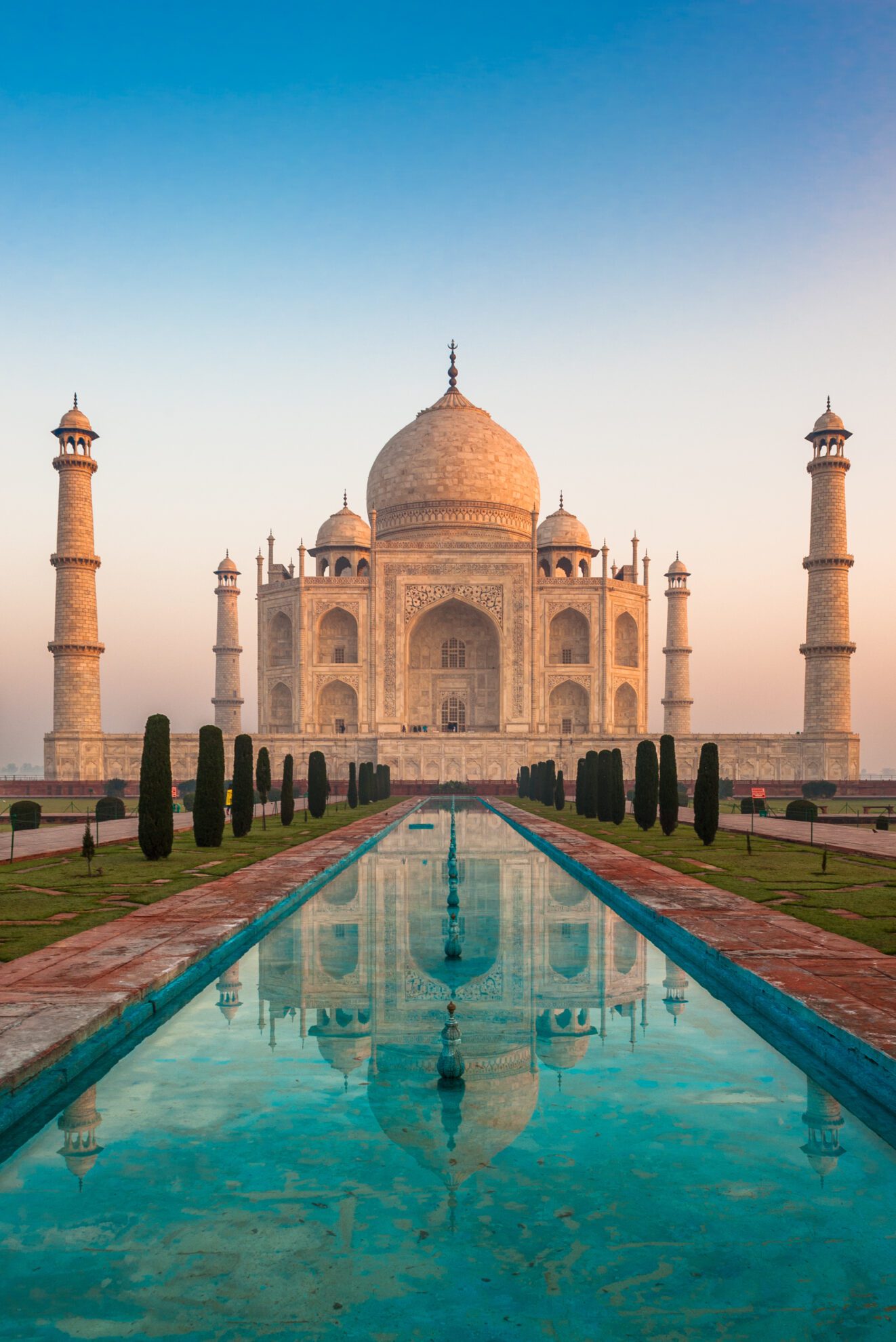 Colors of India
& The Holi Festival
MARCH 1-12, 2023
11 NIGHTS / 12 DAYS
FROM
$8,799 PER PERSON –

Limited Availability
Experience Timeless Beauty and Mesmerizing Cultures
Colorful, outrageous, romantic, and wild, India is a beautiful enigma, delivering spectacular natural beauty in every shape and form. Its vibrancy will astound you, as will the warmth of its people. On this journey, you'll experience the India of your imagination.  
Begin in Delhi, the bustling capital of India. After touring the colorful bazaars and ancient UNESCO sights of Old Delhi, continue to Agra for a sunrise visit of the timeless Taj Mahal, the world's greatest monument to love. Rajasthan unfolds like a beautiful tapestry. From the pink sandstone City of Jaipur to the picturesque and romantic City of Udaipur, there are hill forts, palaces, gardens & temples.
With superb local guides and incomparable service, Source has curated this luxury small group LGBTQ+ journey to take you on a voyage of discovery through this unforgettable land.  
Following our trip to India, we're offering an extension to Bhutan from March 12-18, 2023
JOURNEY HIGHLIGHTS
Take a Rickshaw Ride in Ancient Delhi
Explore medieval backstreets and browse bazaars
Colorful Holi Celebration at a Palace in Jaipur
Experience the magical allure of the Taj Mahal

 

Marvel at the White Palaces from Lake Pichola in Udaipur
Take in the Beauty of the City of Lakes from the Leela Palace
Witness an Ancient Ritual in Varanasi, India's Spiritual Capital.
Hand Selected Luxury 5-Star Accommodations
Exclusive LGBTQ+ Luxury Tour Limited to 18 guests
Extensions to Mumbai (Bombay) & Bhutan
Delhi
Arrive at New Delhi's Indira Gandhi International Airport Terminal (T3).
Meet & Assist on arrival and transfer to The Oberoi Hotel.  Our representative will then provide facilitation and assistance to you to clear through the immigration, collect baggage from the baggage belt and then guide you through the Green Channel gate of Indian Customs. At Hotel, our concierge will assist you with the necessary check-in formalities. Rest of the day at leisure
Overnight:  Oberoi New Delhi Hotel
Delhi
This morning we explore the walled city of Old Delhi, where traditional life has changed little. See the Jama Masjid, the largest mosque in India.  Drive past the Red Fort, also built by Shah Jahan, and finally, visit Raj Ghat where Mahatma Gandhi was cremated following his assassination in 1948.   We then hop on rickshaws (pedi-cabs) to ride around the old Chawri Bazaar and savor the ambiance of an Oriental and Indian marketplace.
Post lunch proceeds for a visit of New Delhi covering Humayun's Tomb the first garden-tomb in the Indian subcontinent and the inspiration for several monuments including the Taj Mahal & the Qutub Minar, one of the finest Islamic structures ever raised in India. Explore the government buildings, the President's house, the India Gate. From here you visit the Gurudwara Bangla Sahib, the temple of the followers of the Sikh religion.  Get a chance to volunteer at Gurudwara's free kitchen and to be part of "Vand Chakko" the Sikh uplifting concept that translates to 'share and consume together.'
Overnight: Oberoi Delhi Hotel
Delhi to Agra
Morning drive to Agra, upon arrival check in to the hotel
Agra Fort – massive and majestic, the red sandstone fort in Agra, built by Emperor Akbar, is perhaps the best-preserved fort in India. Construction of this crescent-shaped fort 2.5 km in circumference commenced in 1565. Contained within the huge double outer walls up to 20m high and broken by a series of huge gates, the fort is almost a city within a city. Today these palatial buildings are silent witnesses to the rise and fall of the Imperial Mughal Empire and are exemplars of Islamic architecture and decoration.
Overnight: The Oberoi Amarvillas
Agra – Delhi – Varanasi
Visit Taj Mahal at sunrise
Taj is at its most alluring in the relative quiet of the early morning, shrouded in mists and bathed with a soft red glow. As its vast marble surfaces fall into shadow or reflect the sun, its color changes, from soft grey and yellow to pearly cream and dazzling white; it's well worth visiting at different times.
Taj Mahal – built by Emperor Shah Jahan in memory of his wife Mumtaz Mahal who died giving birth to their fourteenth child in 1631, the Taj Mahal is described by the Indian poet Rabindranath Tagore as 'a teardrop on the face of eternity.  Transfer by road to Delhi Domestic Airport for flight to Varanasi.
Overnight: Taj Ganges Hotel
Varanasi
An exclusive boat ride on River Ganges followed by a brief walk through the ghats
Observing the early morning riverside rituals from a boat on the Ganges is a special experience. In the blue light of dawn, travel through Varanasi's misty, winding streets and board a private rowboat, watching from the water as the sun rises and the banks begin to crowd with worshippers.
One of the oldest continually inhabited cities in the world, Varanasi has a uniquely spiritual atmosphere and is one of the holiest places in India. Temples of note include the Bharat Mata Temple and the Durga Temple, also known as the Monkey Temple. Take an exclusive boat ride on river Ganges followed by blessing ceremony, end the cruise with a 'Diya Daan' at sunset – to pay homage to your ancestors by immersion of oil lamps into the Ganges.
Overnight:  Taj Ganges Hotel
Varanasi – Jaipur
Sarnath – Lord Buddha gave his first sermon here after attaining enlightenment at Bodhgaya. The huge Dhamek Stupa marks the spot where Buddha first preached. The Sarnath Museum has a small but extremely impressive collection of Buddhist artefacts including the famous Lion Capital of Ashoka.
Transfer to Varanasi Airport to board SpiceJet Airlines flight to – Jaipur On arrival, transfer to Taj Rambagh Palace Hotel.
Overnight: Taj Rambagh Palace Hotel
Jaipur
Visit Amber Fort by jeep both ways followed by a visit to Anokhi Museum and Panna Meena step well
Amber – Originally the ancient capital of the Kachawahas clan from 1037 the ancient town of Amber is dotted with ancient temples, Havelis, and step wells. High above the town and surrounded with defensive fortification walls sits the impressive Amber Palace.  Panna Meena Step Well – The eight stories Stepwell was built in the sixteenth century as a sort of community gathering area. A place where people could come for water, a swim, a chat with a neighbor or relax.
Tour the City Palace by passing through the main entrance and begin by visiting the Mubarak Mahal, built in 1890 it houses the Textile and Costume Museum.
Visit a local home to participate in Holika Dehan celebrations followed by dinner with the family
Holika Dahan or the lighting of bonfire takes place on the eve of Holi. The day is also popularly called 'Chhoti Holi' or the 'Small Holi'. The bigger event – play with the color takes place on the next 'big' day. Holika Dahan is an extremely popular tradition and is celebrated with fervor all across the country and is symbolic of the triumph of good over evil.
Overnight:  Taj Rambagh Palace Hotel
Jaipur – Today is Holi – The Festival of Colors
Transfer to Narain Niwas Palace to participate in Holi celebrations with live music followed by lunch
Holi – possibly the most colorful and joyous festival of the Hindu calendar is celebrated at the end of the winter season to welcome Spring. At this festival, distinctions of caste, class, age, and gender are forgotten as people have fun throwing paint and colored water at each other. As many of the colors derive from natural plants, and the festival takes place during a seasonal change, it was believed that the plants and their colors had a medical significance. The festival is due to a legend of King Hiranakashyapu who wanted to be worshipped as a god; most of his people did but not his son Prahlad whose devotion was to Lord Vishnu.
Overnight:  Taj Rambagh Palace Hotel
Jaipur – Udaipur
Transfer to Jaipur Airport to board for the flight to Jaipur.
Nagda – is one of the ancient palaces of Mewar, dating back to the 16th century AD. Visit the Sas-Bahu group of temples, dedicated to the family deity of the rulers of Mewar.  The palace has over a hundred rooms and some very interesting displays of costumes and modern art. The glass and mirror in the interiors of the Haveli are delicate work and well preserved too.
The haveli now stages delightful evening's entertainment; the pleasurable performance of Rajasthani traditional dance and music in the moody surroundings of the haveli. It is an ideal place for evening entertainment while enjoying the view of Lake Pichola.
Overnight:  Taj Lake Palace Hotel
Udaipur
Sightseeing tour of Udaipur city including a visit to Crystal Gallery
The City Palace over-looks Lake Pichola and houses an impressive museum that includes an outstanding collection of miniature paintings. Housed in the Fateh Prakash Palace is the Crystal Gallery, the largest private collection of crystal in the world. Saheliyon Ki Bari gardens famous for its lush green lawns, marble art and fountains.
Visit Mewar School of Art and meet with the master artist including Jal Sanjhi Art experience
A painting is equal to thousand words, which means a beautiful painting is equal to millions of words. Enjoy a brief workshop at the Mewar School of Art. The workshop begins with a brief talk about the history of miniature painting followed by a painting class. You will also see a rare skill – Jal Sanjhi or the "art of drawing on water".
An exclusive boat cruise on Lake Pichola. From the boat, you will be able to view the city of Udaipur as it rises majestically above the lake in the middle of the Rajasthan desert.
"Farewell Dinner" at Sheesh Mahal fine dine restaurant at the hotel

Overnight:  Taj Lake Palace Hotel
Gurgaon
Morning at leisure. Transfer to Udaipur Airport to board Air India flight.
On arrival, transfer to The Oberoi Hotel, Gurgaon; located on the outskirts of Delhi.
The Oberoi, New Delhi
The Oberoi, New Delhi is an iconic luxury 5 star hotel in New Delhi. It is located in the centre of India's cosmopolitan capital city. It is 30 minutes from the Domestic Airport and 45 minutes from the International Airport.
The interiors are a contemporary interpretation of Sir Edwin Lutyens' New Delhi architecture. The hotel is also equipped with state-of-the-art clean air technology which promises air quality on par with global standards.
The hotel has 220 rooms and suites inspired by Lutyens' New Delhi design, with authentic furnishings and handpicked artwork. All feature large picture windows which frame unmatched views of Delhi Golf Course on one side and the UNESCO World Heritage site of Humayun's Tomb on the other. All accommodation radiates luxury. From the rich polished teakwood floors to the spacious walk-in closets, magnificent Italian marble bathrooms, and oak wood desks. Each room also has comfortable seating and complimentary high-speed Internet. In case you hunger for a gourmet midnight snack, we offer 24 hours in-room dining and have 24-hour butlers waiting to serve you. Premier Plus Rooms and all suites have complimentary access to the exclusive Resident's Lounge.
The Oberoi Amarvillas
The Oberoi Amarvilas, Agra enjoys an unrivaled position amongst luxury hotels in Agra, being located just 600 meters from the iconic Taj Mahal. Each of our rooms affords uninterrupted views of this ancient monument to love, while elements of the layout and design pay homage to its Mughal splendor.
Our hotel is approached along a sweeping driveway, verdant with native trees and lit by flaming torches. Just inside, a Mughal-style quadrant is ornamented with cascading fountains and framed by an arched passageway and gold leaf frescoes.
By day, guests can travel in our private golf buggies to the Taj Mahal. At night, they can savor a candlelit dinner beside its soft silhouette. We offer a range of specially curated Oberoi Experiences designed specifically for our luxury resort in Agra and this majestic Mughal city.
We offer all guests complimentary access to high-speed Internet for up to four devices. Guests who book in advance and directly with us can also enjoy special rates, exclusive privileges, and hotel offers. Relax with a loved one on a customized holiday or honeymoon. Enjoy a quick break and rejuvenate with a couples' therapy in a private spa suite with Taj Mahal views.
Guests can stretch out with a swim in our magnificent pool before savoring fine international and specialty Indian cuisine in our luxury dining restaurants in Agra, or unwind with an Oberoi signature cocktail; ours is the only bar in the world with Taj Mahal views.
Taj Ganges, Varanasi
130 contemporary rooms and suites on 48,562. Sq Mt of landscaped gardens is designed for discerning business and leisure travelers. Our fine dining restaurants rank amongst the best in the city, serving international cuisines as well as sumptuous thalis that celebrate the region's soulful food culture, inspired by produce from the hotel's own organic garden. Our fitness and spa facilities complement global lifestyles even as a dedicated concierge service guides guests through the sepia-tinted narrow lanes of old Varanasi, heady with the fragrance of sandalwood and a wealth of architecture, art, and textiles. True to the city's timeless spirit, this 5-star hotel in Varanasi shifts gears from urbane luxury to spiritual epiphanies without missing a beat. Whether you're conducting business over brunch, relaxing with a drink and a few laps in the swimming pool, shopping for exquisite brocade fresh off weavers' looms, or entranced by the light and sound extravaganza of the sandhya aarti (offer of prayers) at Dashashwamedh Ghat, your experience of ethereal Varanasi will be defined by the warmth and opulence at Taj Ganges.
Rambagh Palace Hotel
Originally built in 1835, Rambagh Palace has stepped gracefully through many royal transitions—from the home of the queen's favorite handmaiden to a royal guesthouse and hunting lodge, and later as the residence of the Maharaja Sawai Man Singh II and his queen, Maharani Gayatri Devi. Today, this jewel in the Taj's crown offers 78 stunningly restored grand luxury rooms and suites which were the chambers of the former Maharaja. The palace retains its elaborate splendor, extravagantly decorated with hand-carved marble 'jalis' or latticework, sandstone balustrades, cupolas, and 'chattris' or cenotaphs, and elaborate Mughal Gardens. Within this most glorious of palaces showcasing the best of Rajasthan's royal heritage, you also experience the best fine-dining restaurants in Jaipur. Enjoy a royal Indian feast at Suvarna Mahal, the former palace ballroom built in the 18th-century French style with huge crystal chandeliers. Harmonize your mind and body with yoga and meditation. Over the years, it has played gracious host to several illustrious guests, such as Lord Louis Mountbatten, Prince Charles, and Jacqueline Kennedy. We invite you to experience like they have, the finest traditions of Rajput hospitality. Come, hear the stories of 'The Jewel of Jaipur'.
Taj Lake Palace Hotel – Udaipur
The ethereal Taj Lake Palace affords guests the pleasures of India's bygone princely era. Over the centuries, it has played host to royalty, poets and writers, and the Maharana's guests. Trappings like a welcoming vintage car ride to the charming city of Udaipur, the Jiva Spa boat, royal butlers, recipes from traditional Mewari cuisine, and arrival by boat – all little facets that make this former pleasure palace the celebrated luxury hotel it is today.
Oberoi Gurgaon
Gurgaon is the business and commercial center of India's National Capital Region. In recent years, Gurgaon has been transformed by rapid urbanization into an exciting cultural, business, and retail hub. It has an iconic skyline of towering skyscrapers, an intricate road network, and a clean, efficient metro train service.
Just minutes from the international and domestic terminals, you will find the best hotel in Gurgaon. The Oberoi, Gurgaon is a five-star hotel, a 36421.7 square meters urban sanctuary, and a striking example of contemporary design. Where an ocean of blue meets walls of green and is topped off with a dazzling silver and glass jewel box.
Spacious rooms and suites with magnificent views, fine dining from across the globe, and a host of 24-hour services, including a personal butler, a spa, and a business center. Be it business or leisure, this city hotel is a perfect choice.
| Category | Double Occupancy | Single Occupancy | Availability | Book Now |
| --- | --- | --- | --- | --- |
| Deluxe Room | $8,799 / person | $13,199 / person | Available | BOOK NOW |
Included in this Journey
VIP Meet & Greet upon arrival at Delhi  Airport
All Deluxe Accommodation throughout
Daily Breakfasts
Welcome Dinner in Delhi
6 Lunches & 3 Dinner throughout
Farewell Dinner
Holi Celebration followed by Lunch in Jaipur
Private English-speaking guide
Transfers and excursions by a private modern air-conditioned bus
All entrance fees to the sites mentioned in the itinerary (One Time only)
Rickshaw ride in Old Delhi
Exclusive Boat ride on Lake Pichola
Portages at Airport and Hotels
Still Camera fees to the places of visit
Source Tour Escort
Not Included in this Journey
International Airfares
Domestic Airfares
India Visa Fees
Gratuities
Meals not mentioned in the program
Travel Insurance (Highly recommended)
All items of Personal Nature
Airport taxes (if any)
Covid-19 Test (if applicable)
Passports: Your valid passport should have at least two consecutive blank pages and should be valid for at least six months after your planned departure from the country you are visiting. An entry Visa will be required. Arrival and Departure Airport (DEL)