Australia is a captivating destination that beckons LGBTQ+ travelers with its sun-soaked beaches, abundant wildlife, and a culture as diverse as its breathtaking landscapes. Beyond its renowned natural beauty, Australia is welcoming to the LGBTQ+ community. 
From vibrant cities to captivating events and tailored attractions, this extraordinary country offers a sanctuary where LGBTQ+ explorers can embrace their true selves while immersing themselves in a new and accepting environment. Sydney, Melbourne, and Brisbane, to name a few, boast thriving LGBTQ+ scenes, from dazzling pride festivals to LGBTQ+-owned businesses, bars, and clubs. 
Whether marveling at the iconic Sydney Opera House, diving into the wonders of the Great Barrier Reef, or indulging in the lively atmosphere of Fitzroy Street in St Kilda, Australia celebrates diversity, ensuring that every LGBTQ+ traveler feels embraced, accepted, and valued throughout their unforgettable journey. So, fasten your seatbelts, prepare for an exhilarating ride, and let's dive into the wonders of Australia for the LGBTQ+ traveler.
LGBTQ+ Friendly Destinations in Australia
Australia, with its warm and welcoming attitude, is known for its vibrant and inclusive cities. It has increasingly become a prime destination for LGBTQ+ travelers, offering a variety of experiences, from Sydney's iconic Mardi Gras parade to Melbourne's thriving cultural scene to Brisbane's lively beachside vibe. Here are some of the top LGBTQ+ friendly destinations in Australia:
Sydney is home to one of the largest and most vibrant LGBTQ+ communities in the world. The city's annual

Mardi Gras Parade

attracts visitors from around the globe. Sydney also hosts a variety of other LGBTQ+ events and festivals throughout the year.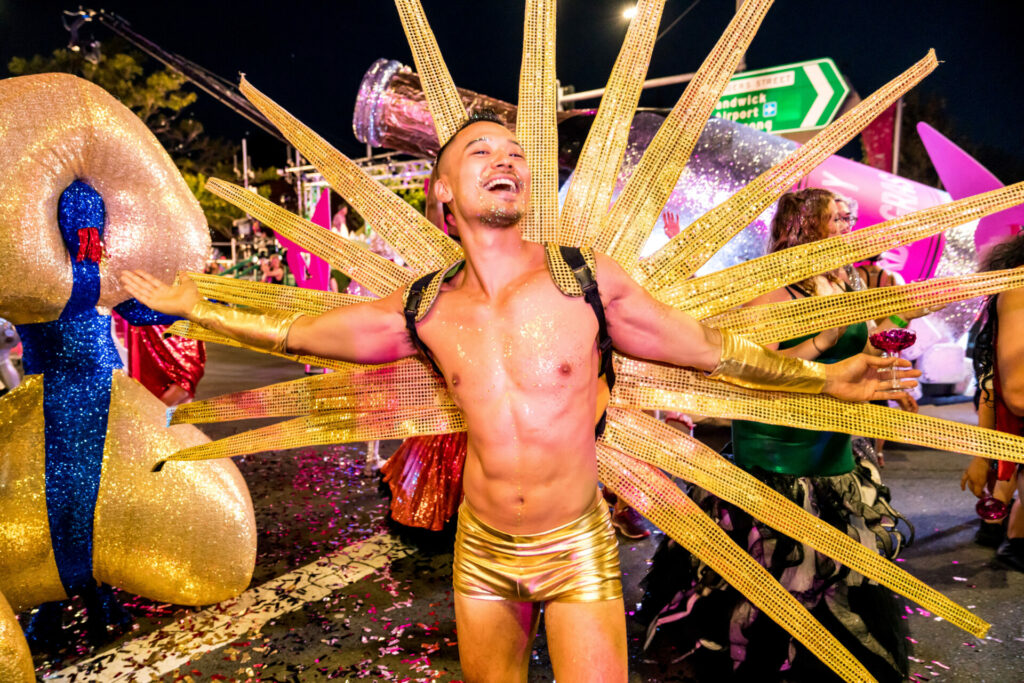 Melbourne is known for its thriving

LGBTQ+ scene

, with several gay-friendly neighborhoods like Fitzroy, Collingwood, and St. Kilda. The city hosts the Midsumma Festival annually, a queer arts and cultural festival. Plus, Melbourne is home to various gay bars, clubs, and restaurants.

Brisbane is increasingly recognized as a growing LGBTQ+ hub. The Sportsman Hotel is a famous LGBTQ+ bar in the city. The Brisbane Pride Festival, held annually, includes a parade, a fair day, and a variety of other events.
Perth

 hosts the Perth Pride Festival, an annual LGBTQ+ event. Connections Nightclub is a well-known LGBTQ+ friendly venue in the city that has been running for over 40 years.

Adelaide:

The Feast Festival is Adelaide's annual queer arts and cultural festival.

Adelaide

is also home to LGBTQ+ friendly venues like the Mars Bar.

Canberra has a small but vibrant LGBTQ+ scene.  Canberra also hosts SpringOUT, an annual pride festival.
Hobart:

Tasmania's capital is home to the TasPride Festival, and the community is generally accepting and inclusive.

Daylesford:

Known as Australia's premier LGBTQ+ regional destination, Daylesford hosts the

ChillOut Festival

, the largest queer country festival in Australia.
Please remember that while these cities and events are generally inclusive and welcoming, individual experiences can vary. Always research specific venues and events beforehand to ensure they meet your needs and expectations.
LGBTQ+ Events and Festivals Across Australia
Australia is home to a vibrant calendar of LGBTQ+ events and festivals that celebrate the community's diversity and spirit. From the iconic Mardi Gras parade in Sydney to regional Pride events, these celebrations create a platform for expression, solidarity, and inclusivity. Let's look at some of the most noteworthy LGBTQ+ events across Australia.
Australia is renowned for its diverse range of LGBTQ+ events and festivals that take place throughout the year. Here are some of the most noteworthy:
Sydney Gay and Lesbian Mardi Gras: This is one of the most famous LGBTQ+ events in the world. Every year, thousands of people from around the globe come to Sydney to celebrate. The event includes a parade, parties, a fair day, and a variety of performances.
Midsumma Festival (Melbourne): Held annually, this is Victoria's premier LGBTQ+ cultural festival. It includes a wide range of events like performances, exhibitions, talks, social activities, and the Pride March.
Feast Festival (Adelaide): This is South Australia's largest LGBTQ+ cultural festival, celebrating pride and diversity through a range of activities including theater, cabaret, literature, visual art, film, forums, and community events.
Brisbane Pride Festival (Brisbane): Held annually, it includes a parade, a fair day, and a variety of other events. Brisbane Pride is Queensland's largest and Australia's third-largest LGBTQ+ event.
Perth Pride Festival (Perth): This annual event includes a parade, parties, and a variety of cultural activities, making it Western Australia's largest LGBTQ+ festival.
ChillOut Festival (Daylesford): This festival in rural Victoria is the largest LGBTQ+ country festival in Australia, offering music, dance, food, and various cultural activities.
SpringOUT (Canberra): Canberra's queer pride festival is an annual event that celebrates the LGBTQ+ community with a variety of events, including a pride march, a fair day, parties, and cultural activities.
Tropical Mardi Gras (Cairns): A 10-day Pride festival in Cairns, North Queensland, which culminates in a Pride Parade and Party.
TasPride Festival (Hobart): This Tasmanian LGBTQ+ festival includes a wide range of events, such as parties, performances, and a pride parade.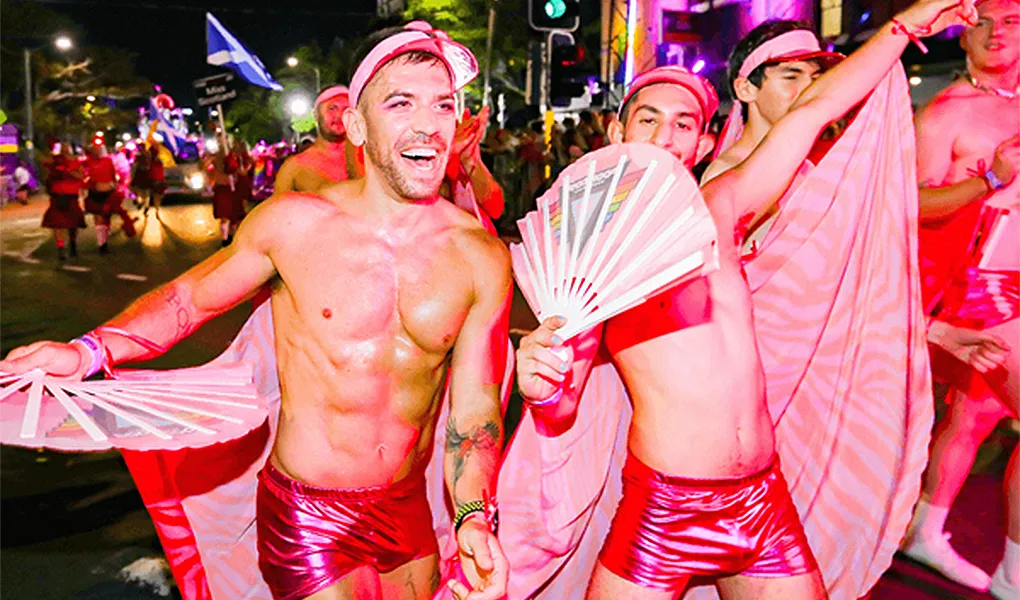 Please note that these events can sometimes be postponed or canceled due to circumstances like weather or public health concerns, so always check the official websites for the most up-to-date information.
Top-Rated Outdoor Adventures in Australia
Australia offers an array of adventure activities for the LGBTQ+ community that combine the excitement of exploration with an inclusive and friendly environment. Here are some options for you:
Scuba Diving in the Great Barrier Reef: The Great Barrier Reef is one of the world's most renowned natural wonders, and scuba diving here is an unforgettable experience. There are many LGBTQ+ friendly diving companies that can guide you, whether you're a seasoned diver or trying it for the first time.
Hiking in the Blue Mountains:

The Blue Mountains

, located in New South Wales, is a UNESCO World Heritage site and offers stunning landscapes for hiking. You can find LGBTQ+ hiking groups that arrange regular trips, fostering a friendly and inclusive atmosphere.

Surfing in Bondi Beach: Surfing is a quintessential Australian activity, but what better place to ride the waves than Sydney's iconic Bondi Beach? Surfing lessons and classes are available from LGBTQ+-friendly surfing schools.
Skiing in Victoria's Alps: For those who prefer the cold, Victoria's Alpine region offers great skiing opportunities. Check out Falls Creek and Mount Hotham, and look out for the gay ski week known as 'Frosty Fruits', which is a popular event in the area.
Canoeing in Katherine Gorge: The Nitmiluk National Park, located in the Northern Territory, offers stunning canoeing experiences through the Katherine Gorge. Explore the dramatic cliffs and unique wildlife in an inclusive setting with various LGBTQ+ friendly tour operators.
These are just a handful of the many adventure activities you can enjoy in Australia. The country's commitment to inclusivity means that whether you're hiking in the mountains, surfing on the beach, or exploring underwater worlds, you're sure to feel welcomed and embraced.
LGBTQ+ Friendly Food and Dining Experiences
Australia not only delights travelers with its stunning landscapes and vibrant cities but also offers a culinary scene that is rich and diverse. Exploring the local food and dining experience has become an exciting journey in itself, where inclusivity and delectable flavors intertwine. 
From charming cafes to elegant lounges, from fusion cuisine to plant-based delights, Australia's culinary scene is a celebration of diversity. Join us as we take a bite out of Australia's rainbow-friendly culinary delights and discover a world where food not only nourishes the body but also celebrates the spirit of acceptance and belonging.
Explore these rainbow-friendly dining options that make Sydney a must-visit destination for LGBTQ+ foodies:
In Newtown, another LGBTQ+ friendly neighborhood, King Street is famous for its wide selection of restaurants, serving everything from Thai to Italian, Turkish to Japanese, and everything in between. For dessert lovers, the Cow and the Moon Gelato Bar is a must-visit, having been awarded the world's best gelato in 2014.
Melbourne's culinary scene reflects its multicultural heritage. Known as Australia's food capital, the city boasts an eclectic mix of dining options. In Fitzroy, a neighborhood known for its LGBTQ+ friendly vibe, you can find dining options like Cutler & Co, offering a fusion of Asian and European cuisines.
Practical Tips for LGBTQ+ Travelers in Australia
Australia is a friendly and inclusive destination for LGBTQ+ travelers, but like any travel experience, it's essential to familiarize yourself with the local laws, support resources, and healthcare facilities to ensure a safe and enjoyable trip.
Legal Rights and Protections
Australia has comprehensive anti-discrimination laws that protect people from discrimination based on their sexual orientation, gender identity, and intersex status. In 2017, Australia legalized same-sex marriage, further affirming its commitment to LGBTQ+ rights.
In terms of travel, LGBTQ+ travelers should feel comfortable showing affection in public and expressing their identity. However, social attitudes can vary, especially in more remote or conservative areas, so it's advisable to exercise the same degree of caution as you would in any new environment.
LGBTQ+ Support Organizations and Resources
There are numerous LGBTQ+ organizations across Australia providing support, advice, and resources. Organizations like ACON in New South Wales, Thorne Harbour Health in Victoria, and the Queensland Association for Healthy Communities offer various services to the LGBTQ+ community, including mental health support, sexual health services, and community engagement activities.
Healthcare Facilities and Services
Australia's healthcare system is of a high standard, and many hospitals and clinics are equipped to meet the needs of LGBTQ+ patients. In larger cities, you will find medical centers with a specific focus on LGBTQ+ health. For instance, the Prahran Market Clinic in Melbourne and the Taylor Square Private Clinic in Sydney are highly regarded for their services to the LGBTQ+ community.
For travelers on medication, be sure to bring enough to last your trip, as certain drugs may not be available or may require a local prescription. As always, ensure you have comprehensive travel insurance that covers all your healthcare needs.
In Summary, Australia for the LGBTQ+ Travelers Is A Country Where You Can Be Free
Australia is a welcoming and vibrant destination that has a lot to offer LGBTQ+ travelers. The country is renowned for its commitment to diversity and inclusion, which is evident in its lively cities, welcoming communities, and diverse entertainment venues. From the iconic Sydney Mardi Gras parade to the LGBTQ+ friendly nightlife in Melbourne and Brisbane, there are countless opportunities to connect with the local community and celebrate diversity. Additionally, the country's natural beauty and outdoor adventure activities, ranging from surfing at Bondi Beach to hiking in the Blue Mountains, offer unique experiences that cater to all preferences. Australia's multicultural cuisine and culinary scene further enrich the travel experience, making it an inclusive and appealing destination for LGBTQ+ travelers.
---